Main Homepage: http://www.vancestevens.com
More Scuba: Back to Vance's Scuba Page | Return to Vance's Logbook contents
This site has a NetWord: http://www.netword.com/vancestevens
---
Dive logs for Vance Stevens, P.A.D.I. Open Water SCUBA Instructor #64181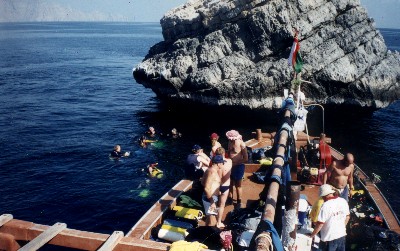 Musandam with ADSAC, December 2 to 4, 1999
Dives 315, 316, 317, 318, 319, 320, 321

previous dive | next dive
Date: Dec 2, 3, 4 1999

Dive #

Location: Musandam to Straits

Diving with: ADSAC

Dive site:

Dive buddy: Bobbi and Dusty

Others on dive:

Others present at dive site: Firas & Loraine, 2 Brians, 2 Chris's,

Sea condition: Mild

Water temp: 24

Visibility: not so good

Wetsuit combo: 3 mil coveralls and typhoon 3 mil top, about right

Weight: 10 kg, heavy (need 9)
We say morays, lots of friendly bat fish, big ones. Barracudas off the points. Saw lots of big lion fish. Lobsters in lots of places, big clawless ones, and the blue crayfish with white feelers sticking from holes. Lots of blue trigger fish, not aggressive. Jellies in the water, mildly annoying. Treveli and jacks were there, and big parrot fish.
Dec 2, left Dibba at 7:30 on a slow moving dhow
Dive 315 Lima Rock (South Face) with Bobbi and Dusty, 24 meter multilevel
Lima rock was pretty and the family dived the profile well. Bobbi and I were light on weights, had to carry rocks at end of dive. I saw a tuna on this one, my only one of the trip.
Dive 316 Ras Sarkan (North side) with Bobbi and Dusty, 22 meter profile as C divers
The boat turned the corner on the fjord leading to the camp spot and Yellow Diver went ahead. They found poor conditions the first place they checked so they crossed the channel. First divers down saw a shark, so we dived it in waning light. We popped down on a big sting ray first thing and rounded the corner out and exceeded depth at end of dive to see the last sting ray.
Dec 3, dhow headed up to the straits and poked through a channel with strong current, like river rapids
Dive 317 Ru Rashid (South Face) with Bobbi and Dusty, went to 26 meters, 35 min maybe
We were expecting a high powered shark dive but didn't see much at all. We were dropped inside an island cove and essentially went along the face of it, probably the least interesting part considering the action was probably at the corners. No current there. Bobbi had a problem at maximum depth. I located a hairline stream of bubbles from her tank o-ring, but nothing to warrant coming up. She thumbed up, and seemed to be heading up possibly out of control. Thinking the problem was inflation into her bcd I disconnected her hose. She then sank and bumped coral and tried to power inflate. I had to orally inflate her myself to establish her buoyancy. Later she said she hadn't realized she'd been disconnected (that wasn't the problem; she claimed she'd heard a hiss). During the dive she indicated she wanted to go up several times so I had to take her hand. This tired me and I had trouble moving. When we hit the current at the corner I could see we were in no shape to tackle it so I led us back up the wall where there wasn't much to see. The wall was pretty bare except for white coral patches. Others thought it was a great dive, no biggies mind you, but they enjoyed it. We like biggies at Hormuz, so compared with other dives we'd done there this was the least interesting.
Dive 318 Mussandam Island (Toadstool at North West corner) with Bobbi and Dusty, 24 meters, just less than 50 min
Dived in a place with lots of bommies just beneath a mushroom protruding from the water with evidence of an avalanche above it. Not much of great interest. Bobbi remembers big bat fish. Pretty dive. We started one way but came to a sand patch so reversed on ourselves and ended way in the other direction.
Dive 319, Island just off camp site, night dive, with Chris Cuff
Barracuda swam between my legs. Froze goat fish in our lamps, and clarinet fish that sprung away just as we touched them. Found a few cleaner shrimp. Otherwise, boooooooring
Dec 4 We start our day with a missing dive bag. Dusty borrowed gear but Bobbi didn't..
Dive 320 Ras Sarkan (South Face) with Dusty, 30 meters, 48 min
Dusty and I agreed before the dive that he would try 30 meters. We dropped off the dhow in the middle of a bay and charged down to 30 meters, last bit down sloping sand with poor vis. We checked it out, compared depth gauges (Dusty's my watch actually read 26 but my proper one was over 100 feet). Divers in our wave did essentially the same thing within 5 min of our visit and were visited by a shark at 25 meters. In our case, we just cruised up the coral, colors pretty much blurred by the green pallor, until at around 20 meters we cleared the gloom and neared the corner where all the action was. There were big barracuda lurking and lots of reef fish moving up and down the coral walls. Dusty did well on air and keeping up with me. End of dive we turned back to the corner but were by then at 12 meters and it wasn't so full of fish. We ended with a 5 meter safety stop.
Dive 321 with Dusty at the stack, 24 meters, about 35 min
Dusty did well in current at depth. We saw a few morays coming out and a manta ray (unmistakably a manta) as we returned up the reef. We found channels full of fish and cruised near some big barracuda. There was a sting ray with a chunk taken out of his head and the tip end of his tail missing on a sand bottom at 16 meters. Lots of fish and Dusty said this was his favorite dive. Manta rays are not commonly spotted here. Dusty said he'd rather see one of those than a shark. We've seen lots of sharks, but not many mantas.

Visits since October 9, 1999:
Use your browser's BACK button

to return to a previous page

For comments, suggestions, or further information on this page, contact Vance Stevens, page author and webmaster.
Last updated: December 23, 1999 in Word 97
---