Main Homepage: http://www.vancestevens.com
This site has a NetWord: http://www.netword.com/scubavance
More Scuba: Back to Vance's Scuba Page | Return to Vance's Logbook contents
Navigate logbook: previous dive | next dive
---

Dive Logs for Vance Stevens
PADI open water scuba instructor #64181
Dives 358 to 359
September 21, 2000
Khor Fakkan
Diving with: Adsac
Dive sites: Dibba Rock and The Pinnacles
Dive buddy, each dive: Al Smith
Others in dive party: Jenny and Rafi, Bob, Andy, Nigel Barker, Marianne ...
Conditions: Looking stormy to sea with a mild chop, mild breeze
Water Temp:
Visibility: poor, Dibba Rock 3 or 4 meters, Pinnacles 4 or 5
Wetsuit combo: Farmer John and Typhoon top
Weight:8 or 10 kilos
Diving today was supposed to be at Musandam. I got up at 3:30 and left the house by 4, arriving at Khor Fakkan harbor by around 7:30. Weather had been fine inland but clouds appears on eastern seaboard. Wind was brisk. Coast guard was non-commital but advisory was to forget Musandam.
Dive 358, Dibba Rock
Data (from dive computer):
Time started: 10:17
Max depth: 15 meters
Dive time: 00:53
Min Temp: 25° C
Nitrox 21% (normal air), No stop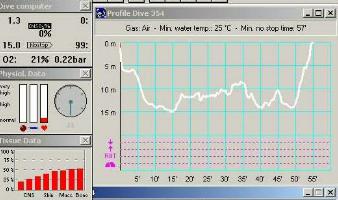 Description of dive:
Trying to remember a week on, Dibba rock wasn't all that great today. Vis was pretty poor for one thing. Al and I, first in the water and followed closely by Jenny and Rafi, spent the first 10 min out in the sand to the east of the rock looking for rays which eluded us. Eventually we returned to the reef on a compass heading and picked up a pipe fish or two, and enjoyed the irredescence of a family of cuttlefish. There were a lot of morays, but I don't remember what else on that dive. We surfaced well south of the boat on the shore side of the rock but in a place where waves were breaking, so it was a bit difficult for the boat to come and get us. Al blew his whistle and exposed his sausage, waving it around in hopes of attracting attention. Eventually the boat came alongside.
Surface Interval, per computer: 2 hours 21 minutes
Dive 359, The Pinnacles
Data (from dive computer):
Time started: 13:35
Max depth: 12.4 meters
Dive time: 00:57
Min Temp: 28°C
Nitrox 21% (normal air), No stop
Details of profile:
Description of dive:
This turned out to be an excellent dive. Animal sightings included morays, psychedilic cuttlefish, masses of little pipe fish, a fish-not-shark look-like-shark, a ramora that wanted to attach itself to Al, a baraccuda or two, and a ray very flat almost oval shaped with thin tail that tolerated all the divers coming up to him in the sand and as no one bothered him (all divers ecologically correct) was observed by nearly everyone on their dives. Current was driving to the north and Al and I worked to push ourselves south, shot through a couple of shallow reeftops, and ended up well south of the boat. We surfaced after 45 min, saw where we were, signaled ok, and dived to compass head back to the boat, and came down right on a turtle that didn't seem all that eager to get out of the way as I finned right by him. We compassed back to the boat and came up right underneath it.
Vance Stevens, vstevens@emirates.net.ae | http://www.vancestevens.com/
Page updated October 12, 2000 in Hot Metal Pro 6.0