Main Homepage: http://www.vancestevens.com
This site has a NetWord: http://www.netword.com/*scubavance
More Scuba: Back to Vance's Scuba Page | Return to Vance's Logbook contents
Navigate logbook: previous dive | next dive
---

Dive Logs for Vance Stevens
PADI open water scuba instructor #64181
Dive 361
October 13, 2000
Safina Beach Cleanup, Abu Dhabi
Diving with: Adsac / Marina Divers
Dive sites: Abu Dhabi Safina Beach on island off Causeway
Dive buddy: Bobbi Stevens 101st Dive!!
Others in dive party: Adsac crowd and Marina Divers with Al
Conditions: mild
Water Temp: warm, haven't checked computer
Visibility: poor, 3 meters, nil when silt disturbed
Wetsuit combo: lycra suit
Weight: 4 kg
Diving from: Shore
Data from computer:
Time started: 11:58
Max depth: 6.1 meters
Dive time: 00:32
Min Temp: 29 degrees C
Nitrox 21% (normal air), no deco
Details of profile: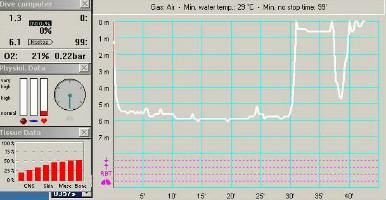 Description of dive:
Trash collection dive. Took a bag and gloves provided. Swam under Safeena Restaurant pier and collected objects thrown over the side by kitchen staff who live under the restaurant and don't deserve to have us come along and clean up their junk, especially as they'll just toss more over. But it was a good place to fill bags, and photographs of all the junk were taken, and it was good publicity for Al, especially as he threw a rather nice party for everyone back at the Crowne Plaza Beach Resort afterwards.
Vance Stevens, vstevens@emirates.net.ae | http://www.vancestevens.com/
Page updated November 9, 2000 in Hot Metal Pro 6.0