Main Homepage: http://www.vancestevens.com
This site has a NetWord: http://www.netword.com/*scubavance
More Scuba: Back to Vance's Scuba Page | Return to Vance's Logbook contents
Navigate logbook: previous dive | next dive | Most recent dive in logbook
---

Dive Logs for Vance Stevens
PADI open water scuba instructor #64181
Dive 374
December 22, 2000
Old Cement Barge, Abu Dhabi
Diving with: Marina Divers
Dive sites: Old Cement Barge
Dive buddy: Mark Kindermann and Bob Campbell
Others in dive party: Al Sharifi and Wayne and Ahmed from Marina Divers, and a South African father and son, a NASA diver
Conditions: mild
Water Temp: 21 degrees C on dive computer
Visibility: not great, 3-4 meters
Wetsuit combo: typhoon top and farmer john inside
Weight: 8 kg, or maybe 6 plus one kg in the pocket
Diving from: Al's boat, Al at the helm
Training conducted: Bob Campbell's second PADI Open Water dive and final open water certification dive for Mark Kindermann
Dive 374
Data from dive computer:
Time started down: 11:26 on my dive computer, 11:27 announced by my watch just prior to descent
Max depth: 11.6
Time started up from chart: 36 minutes
Dive time from computer: 00:37
Min Temp: 21 degrees C (chilly)
Nitrox 21% (normal air), no deco
PSI/Bar in: 205
PSI/Bar out: 80
Pressure group out, from tables: Have Bob calculate it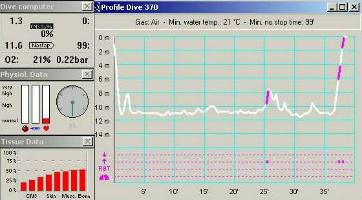 Description of dive:
We limped out of port on one engine and it took us half an hour to reach the OCB site. There was a plastic line floating at the surface tied to debris near the wreck but no buoy, as usual.
We went down the anchor line, at the bottom of which the OCB was just barely, just, visible, our boat trailing to the west from the bow area. We went over the cement sacks in the bow and down the other side where we squatted on the bottom and did exercises. Bob tossed a reg away and retrieved it. Then I had him partially flood his mask. Then Mark removed and replaced his, followed by Bob fully flooding his and clearing it. Then I had Bob take Mark's octopus and breath for a spell.
Then we swam around the boat, eastern side. Round the stern on the west we found where the buoy had been tied off. We chose that spot for Bob to do fin pivots and Mark to hover. If Mark had any trouble, I could use the rope to pull us back down. No need, buoyancy was well under control.
We continued up the west side and passed the anchor in the sand just near the bow. The bow is caved in and strewn on the seabed. We went to its end and Mark did an optional square from there to look for rays in the sand. I had him do a northerly heading to keep it simple for Bob, who would see the tricks modeled. I counted 20 kicks north, followed by 17 to the west. Heading south 20 more kicks took us right off the bow again, current affects I figured. Mark didn't see the bow and didn't respond to my clacking, so he carried on 20 more kicks to the east, at which point he shrugged, 'where are we.' At least he counted kick and stopped, good damage control. I waved him over and led us back to the barge on a slightly south westerly heading.
At that point, 20 plus minutes into the dive, Bob and Mark were getting low on air, so I led them up and through the interior of the boat. At the stern, I had Bob do a simple out west and back again. Coming back he couldn't have missed the boat if he'd tried, but as it was he headed spot on both directions, a little problems with keeping off the bottom, that's all. Compass work was fine. At that point, both divers nearing 50 bar, I led us back to the anchor line and took Bob's octopus for the ascent.
At the surface, Bob removed and replaced weights and removed and replaced bcd.
A fine dive with all divers executing all tasks well. We saw a few bat fish, Mark saw a large grouper, no barracuda, no snakes, not much remarkable, just a well-done dive.
Vance Stevens, vstevens@emirates.net.ae | http://www.vancestevens.com/
Page updated December 25, 2000 in Hot Metal Pro 6.0