Main Homepage: http://www.vancestevens.com
This site has a NetWord: http://www.netword.com/*scubavance
More Scuba: Back to Vance's Scuba Page | Return to Vance's Logbook contents
Navigate logbook: previous dive | next dive
---

Dive Logs for Vance Stevens
PADI open water scuba instructor #64181
Dive 385
April 12, 2001
Abu Dhabi, Old Cement Barge
Diving with:Adsac
Dive site: Old Cement Barge
Dive buddy: Ed Chaffin and Joff Hardy
Others in dive party: Ron Gear diving with Choi, Mary and her daughter Sara, and Pete Hardy
Conditions: mild seas, balmy air, warm sun
Water Temp: 25 degrees C on dive computer
Visibility: 2-3 meters, very poor, suprising as we could see OCB from the surface as we passed over it.
Wetsuit combo: typhoon top and O'Neil overalls, just right for 25 degrees
Weight:12 kg, a little heavy
Diving from: Sapphire
Training conducted: none; fun dive with Ed Chaffin
My 385th Logged Dive since 1991
Data from dive computer:
Time down on dive computer: 9.51
Max depth: 10.1 meters
Time started up from chart: 00:49
Dive time from computer: 52 min.
Min Temp: 25 degrees C (comfortable)
Nitrox 21% (normal air), no deco
Pressure group out, from tables: not relevant
PSI/Bar in: 205
PSI/Bar out: 95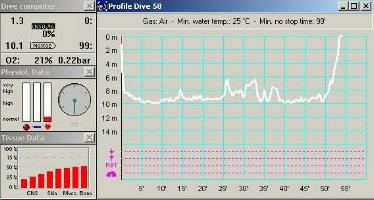 Description of dive:
Seemed like it might be a good day with the cement barge visible from the surface. But horizontal vis was poor unfortunately, only a few meters. We kept losing buddies within 3 meters
Grant had aborted his dive with his brother Joff, so Joff was waiting in the water when Ed and I entered. We went down together and had a pleasant dive, me leading pretty much, combing the wreck plus making loops out in the sand. On one of these loops we came upon a huge Hamoor longer than my forearm. He'd scooped a nest for him/herself in the sand.
He was the biggest thing we saw on the wreck, though I did see a lone baraccuda in amongst the fish schooling on the wreck. I also saw a little crab with purple pincers in the debris of the wreck.
Lay of this wreck is stern to the north and bow to the south. Off the southwest corner is a ribbed item of some sort on its spine with the ribs poking toward the surface. Debris to the east is tyres and such. This is the debris field I picked up with Bob and Rebecca which made me instinctively turn to the west, which is how I found the wreck when we were anchored so far south of it a few dives back.
Pressure group out, from tables: not relevant

Use the navigation at the top of this page or your browser's BACK button to return to a previous page

For comments, suggestions, or further information on this page, contact Vance Stevens, page webmaster.

Last updated: April 22, 2001 in Hot Metal Pro 6.0