Main Homepage: http://www.vancestevens.com
This site has a NetWord: http://www.netword.com/*scubavance
More Scuba: Back to Vance's Scuba Page | Return to Vance's Logbook contents
Navigate logbook: Logbook for 2001 | previous dive | next dive
---

Dive Logs for Vance Stevens
PADI open water scuba instructor #64181
Dive 396, 397, and 398
June 14-15, 2001
Khor Fakkan: Car Cemetery, Dibba Rock, Pinnacles
Diving with:Scuba 2000
Dive buddies: Bobbi and Rebecca Woll
Others in dive party: just us
Conditions: mild
Visibility: 3 meters off Car Cemetery, to 5-7 or 8 next day further north
Wetsuit combo: lycra skin
Weight: 6 kg
Diving from: Scuba 2000 with Patrick on Thu, and a hired boatman on Friday
My 396th Logged Dive since 1991
Dive site: Car Cemetery
Training conducted: none
Data from dive computer:
Time down on dive computer: 16:21
Max depth: 17.8 meters
Time started up from chart: 36 min.
Dive time from computer: 40 min.
Min Temp: 27 degrees C (comfortably cool without wetsuit)
Nitrox 21% (normal air), no deco
PSI/Bar in: 220
PSI/Bar out: 70 bar
Pressure group out, from tables: 18 m for 36 min = N; NDL=56
Description of dive:
We'd read somewhere that this could be a nice dive, and indications were that there was a dive trip on next day for Dibba Rock and Pinnacles (which is why we decided not to dive the latter). Patrick would have taken us to Martini Rock for this one, but we unwisely opted for the Car Cemetery as it was close by and we'd never been there. Actually, I had been there once before with ADSAC on my very first trip to KF, but after spending half an hour combing the sand for no trace of cars, I'd surfaced and the other divers on board, Dave Teasdale being one (he'd given me a lift down), hadn't even bothered to get wet. So I hadn't really felt I'd been there either.
Patrick seemed to know what he was doing. He explained the transits he was using, a tree on a gap in a ridge lined up on a villa to the southwest, and a minaret lined up on a striation on the mountainside to the northwest. He had us parked perfectly (we thought) and he told us the cars would be to the north and east of where he'd placed the anchor. What we didn't know was that Patrick was not a diver, and had he been he could have told us the vis was completely inappropriate for that dive that afternoon.
But we suspected as much as we arrived at bottom in almost 18 meters of murky water. I attached my line to the anchor and played it out to the north. 50 meters later we had seen nothing, so I swept to the east, but still nothing but sand and blotches of coral and urchins. We swept round and when I found a snag I reeled in. I was hoping we'd snag a car, but we got nothing but rocks on the bottom. Bobbi and I found two spotted sting rays, but other than that there were not cars and precious little in the way of fish except by some of the larger coral patches. Round and round we went, always within 50 meters of the anchor, until Rebecca ran down to 50 bar, which she held off doing for a respectable 36 minutes, not bad for her first dive entirely at almost three atmospheres. I took us up at that point, whereas had we been able to work our way shallower I'd have let her get down to 40 or so before signalling a direct ascent to the surface. At the time, we thought what a shitty dive, though on reflection, the rays were interesting.
Surface interval:overnight, 17 hrs and 47 min.
Pressure Group in: new diver
My 397th Logged Dive since 1991
Dive site: Dibba Rock
Training conducted: none
Data from dive computer:
Time down on dive computer: 10:54
Max depth: 13.2 meters
Time started up from chart: 00:49
Dive time from computer: 50 min.
Min Temp: 29 degrees C (comfortably warm)
Nitrox 21% (normal air), no deco
PSI/Bar in: 220
PSI/Bar out: 70 bar
Pressure group out, from tables: 14 meters for 50 min. = N; NDL = 98 min.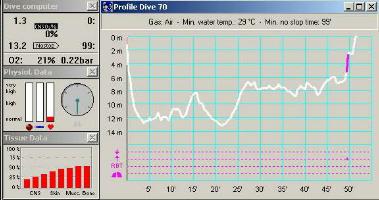 Description of dive:
Due to an unfortunate state of inebriation the night before, I had agreed to be awakened at 7:30 'for coffee.' The dive was scheduled for 9 but didn't get off until after ten since a lot of people turned up from the Oceanic where a remodelling scheme of some kind had driven them away in droves. Among them was Carole Harris, whose book UAE Underwater Explorer we had just purchased the week before. The delay in our dive plan for the day sort of obviated one of the main advantages of staying 'right at' the dive center.
However the diving, when at last it got underway, was worth the wait and 'made up for yesterday'. Now a week after the fact I forget all the things we saw on the first dive, but there was no current and we had a great time drifting up and down the reef viewing all the tiny creatures living there: morays galore, lion fish in clusters of half a dozen or more, tiny brine shrimp, big crayfish, cuttlefish, curtains of fry veiling coral encrusted nooks, schools of fish lazing about, cleaner wrasse, pipefish, big parrotfish, lots of triggers including an aggressive one when I made my trigger sign at it ... I led us along the outside to where the rocks petered out and into the sand looking for rays (none). Heading back southwest I avoided entering the shallows on the inside of the island but instead led us, at 8 meters, higher up the reef until we'd reached the gap on the south side of the rock. We surfaced there and awaited a boat siting. We'd had a nice, long, relaxing dive, the ladies performing competently.
Surface interval:1 hr and 35 min.
Pressure Group in: B; adjusted NDL at 14 meters (Pinnacles) now 83 min.
My 398th Logged Dive since 1991
Dive site: Pinnacles
Training conducted: none
Data from dive computer:
Time down on dive computer: 13:24
Max depth: 12.8 meters
Time started up from chart: 00:56
Dive time from computer: 58 min.
Min Temp: 28 degrees C (comfortably warm with cool patches)
Nitrox 21% (normal air), no deco
PSI/Bar in: 220
PSI/Bar out: 70 bar
Pressure group out, from tables: 14 meters for 56+15 min. = N; NDL for B diver = 83 min.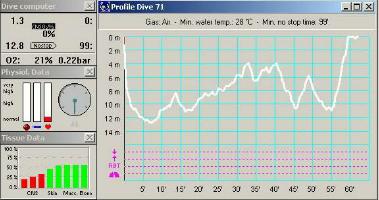 Description of dive:
This dive almost had an odd delay as well. The group from the Oceanic was going to the Pinnacles and we all arrived at about the same time. In our boat had been an Iraqi and his Lebanese-European wife, and a couple of other Arabs, none of whom had planned a second dive though we three had our second tanks aboard. We knew we were going back to the dive center to drop off the Iraqi so he could pray, but on the way back from leaving the other group at the Pinnacles, just about the time when it was too late for us to do anything about it, we found that the Iraqi not only wanted to join us for the second dive after prayer, but that his wife wanted to go and bring another group down from Sandy Beach, meaning go off and fetch them while we waited in the boat with our tanks all rekitted. We waxed indignant briefly, but Uppi from the dive shop came out when we pulled up there and had the boatman take us right back to the Pinnacles, just 5 min away, saying that there would be a third dive laid on for the deeply religious and insufferably tardy.
We arrived just as the others were finishing their surface intervals and the last of them was just going overboard. We tied to the other boat and swam abow of it to go down the mooring line. Although there were no rays, barracuda, or turtles about on this day, perhaps warned off by all the other divers in the water, it was a nice dive with lots of the usual small stuff to see, and we didn't get lost as is easily done on the Pinnacles, but went east and south around the main rocks, turning the corner to the west and north, and shooting back up through their center, plunging down the far east side again. A short fin to the south and we were back at the mooring line. The ladies had plenty of air so we did circles there for 5 min until it was about time to come up. A lovely day diving, in charming company.

Use the navigation at the top of this page or your browser's BACK button to return to a previous page

For comments, suggestions, or further information on this page, contact Vance Stevens, page webmaster.

Last updated: August 27, 2001 in Hot Metal Pro 6.0