Main Homepage: http://www.vancestevens.com
This site has a NetWord: http://www.netword.com/*scubavance
More Scuba: Back to Vance's Scuba Page | Return to Vance's Logbook contents
Navigate logbook: Logbook for 2001 | previous dive | next dive
---

Dive Logs for Vance Stevens
PADI open water scuba instructor #64181
Dive 403-405
August 23-24, 2001
Khor Fakkan: Pinnacles, Martini Rock, Shark Island
Diving with: Scuba 2000
Dive buddies: Ali, Bushnaq, Tariq Williams, Roald Van Rensburg
Others in dive party: Dusty and Russell Bowen
Conditions: breezy, with a bit of a chop increasing through the weekend
Visibility: Russell says 4, maybe 4 or 5
Wetsuit combo: brand new Scuba Pro .5 mm neoprene skin
Weight: 6 kg with students, gave 2 away to dive with 4 kg and just fine
Diving from:Scuba 2000 boat, Hassan at the helm
My 403rd Logged Dive since 1991
Dive site: Pinnacles NIGHT dive
Training conducted: Ali Bushnaq's and Roald Van Rensburg's Advanced OW Night Dive
Also buddied with: Russell Bowen
Data from dive computer:
Time down on dive computer: 19:37
Max depth: 11.3 meters
Time started up from chart: 1;04
Dive time from computer: 1:04
Min Temp: 28° C
Nitrox 21% (normal air), no deco
PSI/Bar in: 200
PSI/Bar out: 70 bar
Pressure group out, from tables or wheel: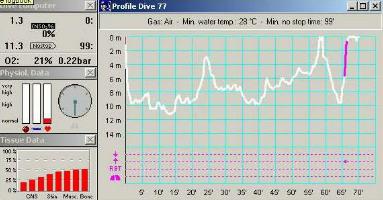 Description of dive:
Great night dive at the Pinnacles, what Hassan calls 'Three Rocks.' I took Roald and Ali with me while Dusty buddied with Russell, accompanied by an elderly gentleman named Mahir. At the Pinnacles site, we tied up to the Sandy Beach boat driven by Haji and, warned of a bit of current, my group took care to meet at the line connecting the two boats before heading around to the bow of Haji's boat and dropping down on the site via the mooring buoy in 9 something meters of water. We eased into the dive, the two novice night divers getting into it splendidlly. First off we came to a big turtle hiding under a ledge with something interesting to his left - what was it? I forget (anyone?). We tried to leave the turtle in peace and not disturb it too much.
The advanced night dive candidates had to do compass courses out and back on reciprocals which occasionally turns up a ray in the sand, and just down from the turtle, there was a buoy on a short piece of rope that looked like it would serve as a base point. Ali did his compass work first but had a hesitant start. As usual I was doing a compass course as well and as I started into mine Ali seemed to hang back behind me so I'd gone 10 kicks cycles to a coral encrusted outcrop before I figured Ali was perhaps just following me, not leading on his compass course. When we worked out that he should lead, he headed out north over the sand about 20 kick cycles. We paused there to look for rays, found none, and Ali headed us back on a sound heading. We passed right by the coral encrusted rock, passed the hole with the turtle in it, and then passed the bit of string with the buoy floating off it. Ali kept going, so I clacked and got Ali to come back and see what a good job he'd done (and he had, just didn't keep track of the kicks, but that's what the advanced course is about).
We headed around that rock and moved up an alley which I knew well. There were lots of morays in the rocks. At one point I came upon a huge crayfish with a tail as big as my forearm (lick chops thinking about it) sitting in the sand (exposed mind you, not in a hole). I hovered right over him in my torchbeam and watched him wander over to the other divers, as if inviting one of us to reach down and grab him. Ali stuck a fin out to keep him from wandering too far, and at that he shoved into reverse and backfired like a rocket and we didn't see him again.
We ascended up the alley to what looked like one rock wall after another in the dark. Climbing in tiers, I ran into a wall that extended up to the surface. The surge was batting us about but I knew there was a way over and I found it and pushed through, checking to see that two lights followed. On the other side the surge abated and we dropped down onto a wonderland of scurrying fish, crowned by another hole with a turtle in it. Looking in the holes, you could see tiny eyes light up red, and if you shined a light you either found delicate red and white brine shrimp or another member of the same species with an arched back who moved like a cricket in that if you got in too close, he'd be gone in a muscle twitch. Lots of parrot fish sleeping in the rocks as well as a red fish whose identity escapes me. Lots of morays there too.
We paused there and let Roald do a compass course out and back. This time we left a sea cucumber on top of a rock and we returned to find it still there. We stopped then and switched off our lights and waved our arms to enjoy the phosphorescence in our bubbles everywhere. The we headed out in the sand once more where I came on a cuttlefish. I held my torch right over him and with him frozen in the beam I was able to stroke its back. On this foray we found our first of many flounders we would see on this trip. Now we headed east back to the rocks and followed them south and what might have been around to the north and west, me not sure we were at this point. We pushed through some shallows again and dropped into the west side of the pinnacles working our way to the north. When we got up to 5 meters we held that depth for 3 minutes in a deliberate safety stop, and then we surfaced to see where we were, which was about 200 meters from the boat on a 70 degree heading from us. With no danger of deco sickness, we decided we might as well descended again and beeline for it. We had to raise once more over the reef but then descended over coral sloping out on sand. We pushed further as the depth increased. At our starting depth of 9 meters on a 70 degrees heading I figured we'd reached our destination, and we ascended right by the boat.
Surface interval:14 hours 14 minutes (overnight)
Pressure Group in: renewed
My 404th Logged Dive since 1991
Dive site: Martini Rock, day, boat dive
Training conducted: Roald Van Rensburg's Advanced OW Deep Dive and Tariq Williams's OW Dive #3
Data from dive computer:
Time down on dive computer: 11:06
Max depth: 20.4 meters with Roald and 18 with Tariq
Time started up from chart: 58 min
Dive time from computer: 51 min.
Min Temp: 25° C
Nitrox 21% (normal air), no deco
PSI/Bar in: 220
PSI/Bar out: 30 bar
Pressure group out, from wheel: Roald and I calculated we'd have been Q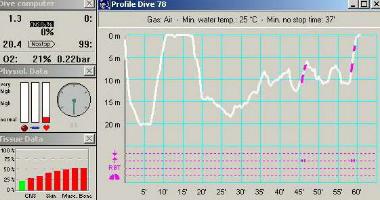 Description of dive:
This dive had two objectives. First Roald and I would descend to depth to do the exercises for his advanced deep dive, and then we would return for Tariq and take him to 18 meters for his 3rd open water dive. The plan worked well though it was complicated at the surface by slight chop and crowded conditions at the rock (boats from Sandy Beach, Turtle Divers, and two boats from 7 Seas, each with its compliment of divers already in the water). Roald and I went down almost as planned. That is, we met on queue at the mooring line of Capt. Ahmed's boat, which we'd tied on behind, which led at a 25 degree angle to the highest part of the rock, which we could see barely from the surface as we pulled our way along it. With the rock in view I signalled down and descended alongside it but Roald didn't follow. I watched him at the surface, saw he was light, and went back up to give him a tug. I was easily able to get him under but at ten meters when I let go and he still seemed to be rising, I decided he needed more weight. Fortunately I was carrying extra in a pocket belt so it was easy to just slip a weight in his BCD pocket; I was fine and he seemed ok (though he said at the end in the shallows and with the surge he was struggling to stay down, probably he thought because he'd used a steel tank the night before? - he was wearing the same weight as the night before, that is, and he'd been fine ...).
Trouble was, we'd come off the rock and ended up descending without its visual reference, and we landed at bottom in sand. I started heading right, the way I thought the deep water was, but a glance at my compass told me that was west, wrong way. We must have corkscrewed on the descent, so I reversed direction and headed east. There was no rock to be seen but that wasn't the point on this part of the dive, so I didn't waste time looking for it. We were looking for depth here, so I kept going east till I got below 20 meters and I figured in the interest of time, that was far enough. I had a surface interval problem prepared on a slate, and Roald solved the problem in not many more seconds than he'd done it on the boat. We then compared his depth gauge to my computer (about the same, but the point is, your problem solving skills CAN be impared at depth, and depth gauge readings CAN vary). We then headed back, but again in the interest of time, back and up. I put my compass next to my computer and steered us west and up just short of saturaton on my computer, and we rose to the surface that way. I figured we'd do the requisite safety stop (not required at this point, 20 meters for 6 min.) at the end of the dive.
As luck would have it, and perhaps luck is improved with a modest application of skill, we came up just short of Hassan's boat in a perfect reentry of oxygenated atmosphere. Tariq was readied in no time while Roald and I hung loose on the painter joining Ahmed's and Hassans boats. Roald and I each had 150 bar, so our plan seemed intact. When Tariq came over I had him check for weighting. He did so with a snorkel in his mouth but I had hold of him so he wouldn't sink. I reminded him when he resurfaced to always check weight with a reg in your mouth in case of unexpected descent.
We then moved out to the bow of Ahmed's boat and after doing a 5 point check Tariq and I prepared to descend while Roald pulled himself along the mooring line. My idea had been to drop down the wall we'd missed earlier, but Roald's turned out to be better. He got us to the top of the rock, pulling on rope against a strong surge, and once there I decided to push through to the other side. I had to kick against the surge, but I dropped over into gentler water surrounded by purple soft coral and into a school of a few hundred snappers. Roald and Tariq followed with little problem so we dropped to the sand where Tariq did his skills for the dive, neutral buoyancy via fin pivot and flood and clear a mask. There was also an optional buddy breath on this dive which we planned to do but I ultimately decided to postpone it because I wanted to get Tariq to depth asap and we didn't have the chance later in the dive.
We worked on down to 18 meters, seeing lots of morays in various configurations. I pointed out the lion fish and the various trigger fishes, one of whom even threatened me with lunges at my pointing finger. There were beautiful rainbow wrasses, and at one point a semi-hidden scorpion fish. The characteristic purple, yellow and white soft corals of martini rock served as colorful backdrop to the clownfish darting in and out of the green anenomes, and the many tiny cleaner wrasses, and starfish clinging to the rocks (and something organic and wormlike caught up on an urchin's thorns, which I examined more closely, lifting it with my knife). With Roald below 100 bar as we reached the 12 meter point, I led us up the rock which we circled at 8 meters, each time having to fight the surge at one end but being rewarded by tranquil drift back through the school of snappers. Puppydog puffers and coronet fish attracted Tariq, and just after Roald waved goodbye and surfaced low on air, we came upon a honeycomb moray retreating into its hole. As we got closer, we saw a grouper enter the hole almost to its tail. Then the grouper backed out tail first (found the hole occupied? or eating the honeycomb moray? or being eaten?? couldn't tell ...). When he could get his head around, the grouper emerged and looked at us guiltily and scurried off. I was glad to see the honeycomb moray reemerge intact, so it had been just a close encounter of an aquatic kind.
I suppose when Roald signalled 50 bar before our last time around the rock, I should have seen that he did a 5 meter safety stop then. Maybe he had meant to tell me 50 bar, time to go up (but just below the surface, in view of the mooring line, divers can usually have another 5 min on less than ten bar of air, so I rarely surface at 50 on this dive, and Roald wouldn't have known that). His sudden surfacing without meeting that part of his requirement was partly his fault (he didn't signal us to come up and do the stop) and partly mine as instructor, not monitoring the situation with Roald more closely, trying to prolong Tariq's dive time (and Roald and I had been down about 40 min at that point, including his deep dive. I had intended to lead us in a safety stop for 3 min at 5 meters along the top of the rock. But I feel I shouldn't be dogmatic about these things either, and as long as people are diving safely and enjoying themselves, that's the most important thing. And also, I made sure we did a good safety stop on the next dive to make up for it.
Surface interval:1 hour 8 min
Pressure Group in: Q to ...
My 405th Logged Dive since 1991
Dive site: Shark Island, boat, daytime dive
Training conducted: Roald Van Rensburg's Advanced OW Drift Dive for Certification and Tariq Williams's OW Dive #4, also for Certification
Data from dive computer:
Time down on dive computer: 13:15
Max depth: 14.4 meters
Time started up from chart: 45 min for main group of divers; 56 including ESA exercises with Tariq
Dive time from computer: 49 (total)
Min Temp: 26° C
Nitrox 21% (normal air), no deco
PSI/Bar in: 200
PSI/Bar out: 70 bar
Pressure group out, from tables or wheel: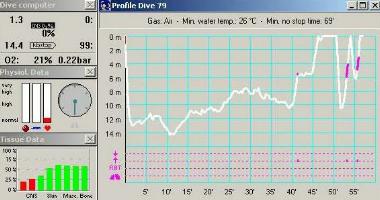 Description of dive:
We had an hour of snorkeling around Shark Island, and Hassan and I planned during the surface interval to go to the south side of the island and drop in there for a drift dive west. When the time came to do it, the sea was kicking up so much that Bobbi decided not to do the dive, and Hassan was running fore and aft shifting between engine and anchor trying to keep us off the rocks and in position to begin the dive. We had decided to stay in a group of 5 and at the outset we dropped in the sand for Tariq to find optimal buoyance with a fin pivot and then remove his mask and replace it. I then had him hover and expected at this point to be drifting west, but if anything we were being pushed slightly east and seaward. Hassan had tried to pick a point where the seas would bring us inland but despite prodigious boat skills (my respect!) had miscalculated ever so slightly (he was proven correct in the end, and the dive did turn into a pumping drift).
Tariq was not holding a hover perfectly at this point, but I'd seen him do this skill well enough before and I didn't want us hanging about this spot with a seaward current, so I signalled us to begin the dive. Here at first, we had to fin against the current, and the rock strewn terrain was much different from Martini Rock; more barren. We finned out to the south a bit to get depth but then noticed we'd gone off course and began finning back west and north. We got more into what seemed nearer the island and saw a moray or two, and then the finning began to get easier and you could tell this was getting to be almost like a drift dive to the extent that you wouldn't want to be finning back against the slight current. As this current gradually picked up so we could almost get carried by it, we started moving over more rubble, admiring the fishies, and suddenly I saw a ray, and thought it was a devil ray (could have been an eagle ray, the way it was flapping, looked devil, couldn't see processes distinctly, impression of horns, not positive). I took out after it clacking, passing under a large lone barracuda which caused some in the party to break off, thinking that's what I was going after. Tariq was right with me though. After a moment poking in the gloom and checking to be sure the others were there, the rays returned, a pair this time (again, devil ray like cluster behavior), cutting across our bow and disappearing off to our left. By now the current had us and was taking us through green water over the sand. Moments later we saw a bull ray and we went after it as well, but the current had us and carried us past.
We saw nothing more save an occasional anemone in the sand with a clownfish inside, but we were carried swiftly to the nothwest. I could tell we had turned the corner on the island and I tried to kick us easterly, but it was impossible to deviate from the path nature was taking us. Tariq was hovering perfectly now, going with the flow. At some point I raised my sausage, and then the sound of Hassan's engine buzzed reassuringly overhead. We continued to drift. All of us had plenty of air, but it seemed we were just being carried up the channel, so with someone at 70 bar I signalled an ascent to 5 meters. It was easy for me. I just reeled in my line and hung suspended at 5 meters in a perfect lotus position for 3 minutes. The others all hovered on their own at my level, each doing it perfectly. After 3 minutes, thumbs up, and we surfaced to end another interesting and well-executed dive.
Tariq and I continued a bit more. Hassan threw an anchor down so we could do an ESA off it. It was in 11 meters of water so I had Tariq start from 10, not on the bottom. On the way up I saw breath bubbles come a couple of times, so he hadn't really done it right (he'd done it great from 4 meters last time we practiced at the Sheraton). So we descended to about 5 meters and repeated the exercise. Better that time.
We then had Hassan throw us a line and with me hanging on to it and Tariq, Tariq removed and replaced weights and bcd, completing all water requirements of the course.
Congrats Tariq and Roald on jobs well done!

Use the navigation at the top of this page or your browser's BACK button to return to a previous page

For comments, suggestions, or further information on this page, contact Vance Stevens, page webmaster.

Last updated: September 21, 2001 in Hot Metal Pro 6.0