Main Homepage: http://www.vancestevens.com
This site has a NetWord: http://www.netword.com/*scubavance
More Scuba: Back to Vance's Scuba Page | Return to Vance's Logbook contents
Navigate logbook: Logbook for 2001 | previous dive | next dive
---

Dive Logs for Vance Stevens
PADI open water scuba instructor #64181
Dive 412
September 28, 2001
Old Cement Barge
Diving with: Marine Divers
Dive buddies: Spencer Pugh and Flor Pesigan and Mike, Wayne's brother
Others in dive party: Wayne driving, and that was it
Conditions: warm, pleasant
Visibility: not so good, 4-5 meters
Wetsuit combo: Scuba Pro .5 mm neoprene skin
Weight: 6 kg
Diving from:Marina Divers boat
My 412th Logged Dive since 1991
Dive site: Old Cement Barge
Training conducted: Spencer Pugh's Open Water Dive #2; Flor Pesigan's Open Water Dive #2
Data from dive computer:
Time down on dive computer: 10:24
Max depth: 11.1 meters
Time started up from chart: 32 min.
Dive time from computer: 33 min
Min Temp: 31° C
Nitrox 21% (normal air), no deco
PSI/Bar in: 180
PSI/Bar out: 70 bar
Pressure group out, from tables or wheel: 12 meters 32 min F (G at 33)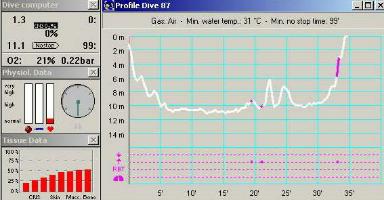 Description of dive:
You couldn't have asked for a better diving day in Abu Dhabi, or a more relaxed start. Just the three of us, Spencer, Flor, and I, and Wayne and his brother Mike. The weather was warm but not overly hot, skies were the usual blue, and the sea was calm and you could see the bottom around the Sheraton. At the OCB however, we couldn't see the wreck from the boat, suggesting that vis wouldn't be all that good, which it wasn't.
I had my divers put on their weights and walk down the ladder to get some idea of how much they would need. Consequently, when everyone got in the water and at the anchor line, a bit of a current threatening to pull us off of there, a weight check showed everything to be ok.
On descent, Flor had a little problem with ears. We were entertained by bat fish while she worked it out. The anchor turned out to be draped just fore of the stack of cement, so as we came on the boat we were at the highest point of the wreck. Mike picked up a sea urchin off the bags and entertained my divers with it. By the time we had got everyone over the cement and down the other side, I felt they'd had enough of an acclimitization so I had everyone settle on the sand bottom there for exercises. We started with reg recovery and clear, then half and full flooded masks. Then we did alternate air source breathing, and then established neutral buoyancy with fin pivots.
We swam around the wreck. Mike turned out to be a handy guy to have around. He showed my guys where the big hamour was hangining out He was buddied with Flor, but the couple of times I had to run up and grab her when her buoyancy started going out of control, he went down with Spencer. Once we lost sight of Spencer entirely. Spencer said later he decided to just stay where he was, an excellent decision on his part. When Mike saw I was handling Flor, he turned 180 and headed into the gloom and once I'd recovered Flor I followed where Mike had gone. I found him and Spencer waiting for us by the side of the boat. Exactly the right move on Mike's part, I thought, all of them doing their best, according to skill level.
At that point I saw Spencer was coming down on 60 bar so I headed us back over the top of the boat and went looking for the anchor. On the other side, I went looking a little far astern and had to reverse direction, but eventually I found it and signalled Flor to be out of air. I also signalled Mike we were going up, but he got a little out of sight of us. Flor and Spencer started up the anchor line on alternate air. I still couldn't see Mike. Eventually he came up the line behind and we proceded to ascend. I had to assist with the ascent as neither Flor nor Spencer were dumping enough air on the way up.
This got me thinking, this notion of doing an alternate air source ascent on the second dive is premature. Students haven't had enough normal ascent practice by then. Only one dive. Don't know what to do about it since it's a requirement, and you can't practice normal ascents and then go down and do an AASA when divers at this level are so short of air.
And then, with Spencer low on air we dropped him by the boat and Flor and I continued. Flor was having ear problems still, a little water on the ear, and she almost decided to get out of the water herself at that point but then decided to come ahead. I gave her the choice of going down, having a fun dive and doing a normal ascent and then going back down for an ESA. I thought she should do an ESA there because the depth was just right, and it's good to get it out of the way with one diver so the other can do it later on another dive. But she didn't think her ears would be up for the multiple ascents and descents, so she opted to go down once and then come up on an ESA. Here again, not enough normal ascent practice in my view.
The return to bottom appeared as a second dive on my computer (below). We gave Flor all the time she needed to clear her ears on the way down, which was easy as we just crawled down the anchor line. At bottom we had a look at all the little fishies inside the boat. At the bow we did a square pattern in the sand looking for rays in the debris field to the east of the wreck. Back at the boat, Flor was now down to 60 so when Mike, leading at this point, rounded the stern I got his attention and guided us up over the cement bags. At the anchor line we started our ascent. Flor was doing fine on ESA when my computer alarm sounded. I'd told her to slow up at that point but she stopped and looked around and had to take another breath. I signalled her to continue, and she did a fine ESA from 5 meters from that point.
Flor went to the doctor next day and found that capillaries in the ear had burst and were bleeding (probably started from dive previous week) and she would be out of the water for the next ten days.
Surface interval: 8 min.
Pressure Group in: E (F if I was G on exit, 35 min residual)
Data from dive computer:
Time down on dive computer: 11:07
Max depth: 11.3 meters
Time started up from chart: 19 min
Dive time from computer: 19 min.
Min Temp: 31° C
Nitrox 21% (normal air), no deco
PSI/Bar in: 150
PSI/Bar out: 60 bar, K
Pressure group out: M

Use the navigation at the top of this page or your browser's BACK button to return to a previous page

For comments, suggestions, or further information on this page, contact Vance Stevens, page webmaster.

Last updated: September 28, 2001 in Hot Metal Pro 6.0