Main Homepage: http://www.vancestevens.com
This site has a NetWord: http://www.netword.com/*scubavance
More Scuba: Back to Vance's Scuba Page | Return to Vance's Logbook contents
Navigate logbook: Logbook for 2001 | previous dive | next dive
---

Dive Logs for Vance Stevens
PADI open water scuba instructor #64181
Dive 417
November 22, 2001
Abu Dhabi:
Breakwater, Inside
Diving with: Marina Divers
Dive buddies: Spencer Pugh and Choi
Others in dive party: Wayne's brother Mike etc.
Conditions: balmy, pleasant
Visibility: not good, 3-4 meters
Wetsuit combo: Scuba Pro .5 mm neoprene skin and Typhoon top
Weight:8 kg, dropped off 3 kg to give to both Spencer and Choi
Diving from:Al's boat, Wayne driving
My 417th Logged Dive since 1991
Dive site: Inside the Bateen Breakwater
Training conducted: Spencer Pugh's 3rd Open Water dive
Data from dive computer:
Time down on dive computer: 11:09
Max depth: 8.2 meters
Time started up from chart: 56 min.
Dive time from computer: 41 min (I guess it's deducting surface time)
Min Temp: 24° C
Nitrox 21% (normal air), no deco
PSI/Bar in: 175
PSI/Bar out: 90
Pressure group out, from tables or wheel: K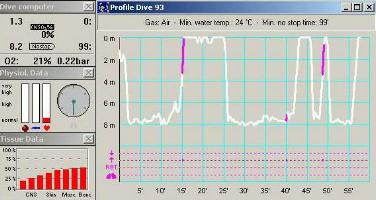 Description of dive:
I planned this dive to knock out about all of Spencer's surface work in addition to his 3rd o/w dive skills. Went something like this. In the water and check weights at the anchor line. Both Spencer and Choi were just barely able to sink. Had they been experienced divers they would have been weighted perfectly. I had plenty of weight in my belt, and as it turned out, I gave each of them a brick as their tanks emptied and they became lighter in the water.
We had an incident at the beginning. Spencer and Choi were behind me but I thought they were ahead and started following two divers who I thought were Choi and Spencer leading me. I thought I needed to chase them, since the plan was for us to stay at the anchor. I finally pulled the fins of one, thinking it was Choi, realized it wasn't, turned to see and Choi and Spencer right behind me, and tried to apologize to the diver I'd disturbed who wasn't sure if I was nuts or was trying to tell him to stop doing something. Choi and Spencer and I returned to the anchor and found a spot in the sand, the 2 divers came along still confused at my behavior perhaps, but in passing, one reached over and tried to dislodge my mask. A bit dangerous to do to an instructor in charge of students. I cleared my mask and put it out of my mind.
Spencer did a fin pivot and then I had him try a hover. The hover was for fun, but he tried to compensate by pumping air in his bcd, messing up his buoyancy. Anyway we got him back to proper buoyancy, for an emergency swimming ascent. When he started out he wasn't in proper up position so I had to abort his ascent and somehow communicate the reason for it underwater, and indicate what he was supposed to do. I think we tried it a couple of times, during which we lost Choi. I felt confident that Choi would be at the surface so I had Spencer continue his ESA practice. He did it fine the second time (only right at the surface, I recall, kept going at an angle instead of popping up, a little unrealistic for an out-of-air diver, but it was fine), and when we surfaced Choi was there.
We took a compass bearing on a point on the seawall the requisite distance away and Spencer went straight for it on perfect surface compass course, swapping reg and snorkel as she blows. At the wall, we went back down and Spencer flooded his mask and replaced it. We then meandered along the wall looking for gopies till we found a pair of rocks just off the wall and I had Spencer swim out 20 kick cycles on compass and return on reciprocal to the same point, which again he did perfectly well. We continued on a ways and checked air and decided Spencer was low and we should head back. Vis was shyte and we lost Choi again. She was having trouble keeping buoyancy right and had obviously surfaced. So I went 'out of air' and brought Spencer to the surface buddy breathing to look for Choi. She was there, and that's when I gave her a kilo to help her stay down.
We resumed our dive until Spencer got down to 50 bar and then we surfaced again. Looking at the chart above (a week later) I see I haven't accounted for one surfacing. Maybe it'll come to me. Spencer?
In any event, when we surfaced, we practiced cramp removal and tired diver tows back to the boat, and then weight removal and replacement, and bcd removal and replacement. And that was that.

Use the navigation at the top of this page or your browser's BACK button to return to a previous page

For comments, suggestions, or further information on this page, contact Vance Stevens, page webmaster.

Last updated: December 6, 2001 in Hot Metal Pro 6.0