Main Homepage: http://www.vancestevens.com
This site has a NetWord: http://www.netword.com/*scubavance
More Scuba: Back to Vance's Scuba Page | Return to Vance's Logbook contents
Navigate logbook: Logbook for 2001 | previous dive | next dive
---

Dive Logs for Vance Stevens
PADI open water scuba instructor #64181
Dive 420
December 6, 2001
Abu Dhabi:
Ras Gurab
Diving with: Marina Divers
Dive buddy: Spencer Pugh
Others in dive party: Lady divemaster, can't recall the name, a guy named Ross, ten others
Conditions: pleasant 34 degrees midday
Visibility: at least 5 meters
Wetsuit combo: my 5 mm farmer johns and Typhoon top
Weight:9 kg, all five pockets filled on my 5-pocket belt, one with 1 kg, and I was light
Diving from:Al's boat, Wayne driving
My 420th Logged Dive since 1991
Dive site: Ras Gurab
Training conducted: Spencer Pugh's 4rd Open Water certification dive
Data from dive computer:
Time down on dive computer: 11:36
Max depth: 7.8 meters
Time started up from chart: 53 min.
Dive time from computer: 53 min
Min Temp: 24° C
Nitrox 21% (normal air), no deco
PSI/Bar in: 140
PSI/Bar out: 25
Pressure group out, from tables or wheel: J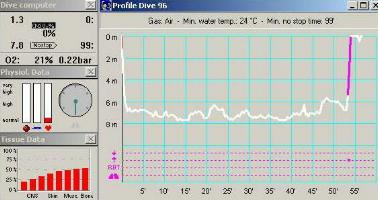 Description of dive:
A little aside: Last week, diving with the weight belt and wetsuit combination I was carrying to the dive center, I had been light in the water. I arrived at the Sheraton with a minute to spare and with intention to add weight to my belt from the basket in the back of the car. But as I was collecting my kit, my mobile rang. It was buried in my dry bag and by the time I got it out the caller had hung up. I rang back, but the caller's mobile was switched off or out of the coverage area. I was not a couple minutes late so if I thought about weights again it was, no worries, I'll grab one from the boat.
Nice day, calm seas, looking forward to the dive. Other than get in and out of the water properly Spencer had little left to do in his course but remove and replace a mask and hover. He did all of these splendidly.
Spencer seemed fine when we checked weights. He had added weight from the week before and sank when he exhaled. I tried the same trick and couldn't get down. I swam back to the ladder and called for more weight. There was none, so I decided to fin down and let the increased pressure keep me under. I was blowing air the whole dive. Spencer on the other hand was rising off the bottom and just managed to keep himself at about 5 meters most of the dive.
During our buddy check, Spencer had a gap in his console where the compass should be. I thought to give him one of mine, but I had left my 2 spare compasses behind in Bobbi's dive bag and when I looked at where my compass should be, I realized I had used it hiking over the weekend and it was still on my rucksack. Fortunately, Wayne was able to pull a compass from a spare reg and put it in Spencer's gap. We glanced at it occasionally during the dive.
We circled the reef following a trail of discarded metal pipes and found some gobies in the sand, big and colorful ones, with crabs excavating and showing themselves occasionally. We finned over the reef, and on the far side I saw a huge hamour as big as one of the rocks, but it swam off as Spencer came up. We looked for it in the sand and then returned to the reef to settle Spencer for mask removal and hovering. We hovored over the reef, comfortably, with lots of fish to watch. Spencer got it down ok.
With the skills out of the way, we meandered east to the next reef over. With no divers around, there were more fish there, parrot fish in groups, and grouper (hamour), angel fishes, wrasse, fusiliers, schools of black-spotted snappers. When I got around 60 bar I headed back over the sand to the reef we had just left. I found an interesting crab under a rock and pointed it out to Spencer, and a large hermit crab walking about, and a clam or two (dozen). Coming on the pipes I followed them back to the boat, and we surfaced right under it.

Use the navigation at the top of this page or your browser's BACK button to return to a previous page

For comments, suggestions, or further information on this page, contact Vance Stevens, page webmaster.

Last updated: December 27, 2001 in Hot Metal Pro 6.0