Main Homepage: http://www.vancestevens.com
This site has a NetWord: http://www.netword.com/*scubavance
More Scuba: Back to Vance's Scuba Page | Return to Vance's Logbook contents
Navigate logbook: Logbook for 2002 | previous dive | next dive
---

Dive Logs for Vance Stevens
PADI open water scuba instructor #64181
Dive 435-436
May 30, 2002
Khor Fakkan
Dibba Rock afternoon, and Pinnacles night dive
Diving with: Scuba 2000, Khor Fakkan
Dive buddies: Jonathan Langley and Mike Lake's PADI Open Water Dive #1
Others in dive party: Bobbi, Dave Propst, Kevin Rooney that afternoon; Dave Propst, Kevin Rooney night dive
Conditions: calm
Visibility: excellent, 7 to 12 meters
Wetsuit: Black Bear .5 mil skin
Weight:8 kg, overweight to accommodate novice divers
Diving from:Scuba 2000 boat with Deden driving
My 435rd Logged Dive since 1991
Dive site: Dibba Rock
Training conducted: Jonathan Langley and Mike Lake's PADI Open Water Dive #1
Data from dive computer: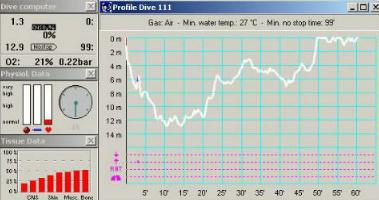 Interval on computer from previous dive: nil
Time down on dive computer: 16:03
Max depth: 12.9; 12 meters planned
Time started up from chart: 48 min
Dive time from computer: 49.min
Min Temp: 27° C last week
Nitrox 21% (normal air), will definitely be deco
PSI/Bar in: not recorded
PSI/Bar out: not recorded
Pressure group out, from tables or wheel: n/a
Description of dive:
Picked up Jonathan from Sandy Beach around 2 p.m. and arrived at Scuba 2000 shortly thereafter where Dave and Mike had booked one cozy room and Bobbi and I the other (Kevin had ridden down with Dave and Mike and was staying at Sandy Beach, but had not been by there yet). Hassan and Deden agreed to my choice of dive site, Dibba Rock, so we wouldn't have to dive Pinnacles twice in one day/night. Vis was best I'd ever seen it there at Dibba Rock, so it turned out to be an excellent choice.
Of the 5 in our party besides me, I had trained Bobbi and Dave, both through advanced, and had dived with them many times, but I'd never dived with the others. I had seen Kevin diving in a video taken at Ras Mhmd in Sinai and was alerted to potential buoyancy problems, and it was Jonathan and Mike's first open water dives. The latter two had done fine in the pool, and descended on queue. As I do with all first time divers, we went down the mooring line, all my novices holding the line with hands above mine. Dave and Bobbi descended independently, but Kevin followed us with hands on the line and when I noticed him having ear problems I halted the descent, forcing Jonathan and Mike to wait for him. After a minute or so I signalled Jonathan and Mike to wait there and went up to assist Kevin. I found him with mask full of water and helped him clear. I saw reef nearby so I swam that direction and motioned all divers over to the reef, beckoning Kevin to follow, idea being to get him off the line and on the reef where we could start our dive and proceed to depth while he cleared. All divers followed but Kevin, who remained on the line, in plain view in the clear vis, but ten meters distant. When it became apparent he wasn't going to follow, I swam over to get him. This forced me to leave my beginning divers unattended, but it was a good thing I did so, because I found Kevin on the line with no reg in his mouth, right hand clutching the line, and left hand groping in the area of his low pressure inflator which he had just found and was about to try and breathe from, but I pre-empted that by grabbing his octopus and giving him that. I then coaxed him from the line. He immediately sank 5 meters which concerned me if he was still having ear problems, so I pulled him up and got him over to the reef, and helped all divers establish buoyancy, got them buddied up, and began the dive.
Once all divers got under control, it turned out to be a great dive. We tried to keep ourselves to 12 meters, though it was difficult to rein in my beginners, who wanted to get closer to the sand, where at one point we saw a ray, which headed for deeper water when it saw us. At that point I led us up the reef, and when the first diver hit 100 bar, I popped us over the wall and into the shallows where Deden said he would wait for us. The water was clear as a swimming pool here. We found cuttlefish, and flounders in the sand, and swimming in one shallow valley we saw a turtle swimming nonchalantly across our path. All divers were fairly well stabilized by now so I led the group back toward deeper water, short of going back over the wall, and when Dave gave me the 50 bar sign, I turned us around, put up my sausage, and led into shallows again. We continued a few minutes until Mike signalled 50 bar, at which point I had us surface, about 50 meters short of where Deden had moved the boat.
Surface interval: 2 hours 24 min
Pressure group at start of repetitive dive: on computer, n/a
My 436th Logged Dive since 1991
Dive site: the Pinnacles (or 3-rocks)
Training conducted: none, fun NIGHT dive
Data from dive computer: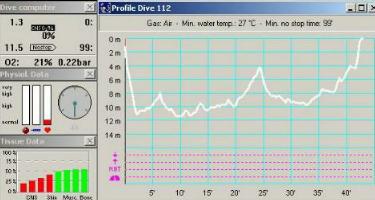 Time down on dive computer: 19:30
Max depth: 11.5
Time started up from chart: 41 min
Dive time from computer: 41 min
Min Temp: 27° C
Nitrox 21% (normal air), no deco
Pressure group out, from tables or wheel: n/a
Description of dive:
We casually prepared for the dive back at Scuba 2000, kitting up in late afternoon, riding to the site in dusk when Deden returned with refueled boat, dropping backwards over the gunwales at twilight in a perfectly timed operation. We had decided to start Kevin off with fin pivots and we got him neutrally buoyant in the sand at depth. Poor guy still managed to get in over some rocks with urchins and suddenly lose buoyancy, and I winced when he crash landed. He bloodied his leg on that one but at least didn't get urched. Later in the dive, Dave swam up from behind and grabbed me to show me that his leg had turned pincushion with lots of spines embedded in the neoprene, front thigh. I held a light for him while he picked them out, and next day, Mike wore that wetsuit and showed us after the dive where the spines still in the neoprene had given him a rash. All divers involved in these incidents grinned and bore their tribulations with no further disruption of diving while underwater.
As for animals, we had found a crayfish out walking around at the beginning of the dive, but we managed to get around the east corner and heading west up the valley where you push up over the gap without seeing much other than sleeping reef fish, not even a moray. On the west shallow side we found sleeping parrot fish looking like they'd been placed on a shelf for the night, and a few brine shrimp. We turned out lights out and waved our arms for the phosphorescent effect. Toward the end of the dive I found a bright red crab and sliced a finger on the coral when I put it down to pivot on it, and happened to touch a razor. Navigating by compass, I couldn't seem to head us north except through force of will as the obvious 'way back' was south and east, the wrong way. With divers low on air, we surfaced not far from the boat, which we didn't find at first, because it had no running lights. Typical.

Use the navigation at the top of this page or your browser's BACK button to return to a previous page

For comments, suggestions, or further information on this page, contact Vance Stevens, page webmaster.

Last updated: June 7, 2002 in Hot Metal Pro 6.0