Main Homepage: http://www.vancestevens.com
This site has a NetWord: http://www.netword.com/*scubavance
More Scuba: Back to Vance's Scuba Page | Return to Vance's Logbook contents
Navigate logbook: Logbook for 2002 | previous dive | next dive
---

Dive Logs for Vance Stevens
PADI open water scuba instructor #64181
Dive 437
May 31, 2002
Khor Fakkan
Martini Rock
Diving with: Scuba 2000, Khor Fakkan
Dive buddies: Mike Lake's PADI Open Water Dive #2
Others in dive party: Bobbi, Dave Propst fun divers
Conditions: calm
Visibility: very good, 4 to 8 meters
Wetsuit: Black Bear .5 mil skin
Weight:8 kg, overweight to accommodate novice divers
Diving from:Scuba 2000 boat with Deden driving
My 437th Logged Dive since 1991
Dive site: Martini Rock
Training conducted: Mike Lake's PADI Open Water Dive #2
Data from dive computer: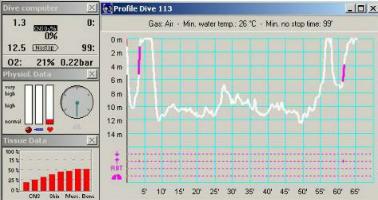 Interval on computer from previous dive: 14:19
Time down on dive computer: 10:35
Max depth: 12.5; 12 meters maximum planned depth
Time started up from chart: 61 min.
Dive time from computer: 56 min.
Min Temp: 26° C last week
Nitrox 21% (normal air), will definitely be deco
PSI/Bar in: don't recall
PSI/Bar out: don't recall
Pressure group out, from tables or wheel: n/a
Description of dive:
We arrived at Martini Rock with just about every other dive company represented, plus a boat with Arab divers on it flaunting spear guns. The name of the boat, I've fogotten, but I think it was My Guess or My Guest or something like that. No catch in evidence, but spear fishing on Martini Rock will spell the end of great diving there, no doubt.
To let all the others get out of the water, Mike and I did a compass out and back on the surface, with snorkel reg exchange, and then dropped down the Arab boat's anchor line to reascend with a controlled emergency swimming ascent. I wanted to rush Mike's ascent because I was running out of air, but I let him control it and he managed to maintain an ahhh all the way to the surface at his pace while I had to breathe more than once, so he won my respect by doing a CESA better than I could do it.
This was a really nice dive. Again we held to 12 meters max but went round and round the rock, finding about every kind of fish imaginable. Schools of fish and colorful soft corals, triggers everywhere, lots of morays, greens and greys, often superimposed with lion fish and other critters. I was looking for scorpion fish and managed to find one just before Dave signalled 50 bar and shortly thereafter surfaced with Bobbi. After Dave and Bobbi left Mike and I found a pipe fish, a turtle right near the surface, and at least a dozen more scorpion fish.

Use the navigation at the top of this page or your browser's BACK button to return to a previous page

For comments, suggestions, or further information on this page, contact Vance Stevens, page webmaster.

Last updated: July 14, 2002 in Hot Metal Pro 6.0