Main Homepage: http://www.vancestevens.com
This site has a NetWord: http://www.netword.com/*scubavance
More Scuba: Back to Vance's Scuba Page | Return to Vance's Logbook contents
Navigate logbook: Logbook for 2002 | previous dive | next dive
---

Dive Logs for Vance Stevens
PADI open water scuba instructor #64181
Dive 438-439
June 7, 2002
Abu Dhabi
Inside the Breakwater
Diving with: Dolphin Divers
Dive buddies: Mike Lake's PADI Open Water Dive #3; Mike Parry's PADI Open Water Dive #1
Others in dive party: Spencer Pugh, fun dive
Conditions: not bad inside breakwater
Visibility: not bad, about 3-4 meters
Wetsuit: Black Bear .5 mil skin
Weight:8 kg, overweight to accommodate novice divers
Diving from:Dolphin Divers boat, no ladder, Ayam driving
My 438th Logged Dive since 1991
Dive site: Inside the breakwater left
Training conducted: Mike Lake's PADI Open Water Dive #3; Mike Parry's PADI Open Water Dive #1
Data from dive computer: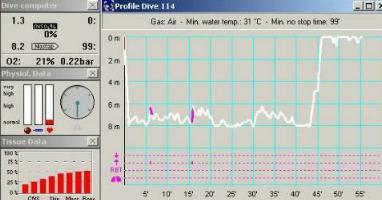 Interval on computer from previous dive: nil
Time down on dive computer: 9:30
Max depth: 8.2 meters
Time started up from chart: 44 min
Dive time from computer: 45 min
Min Temp: 31° C
Nitrox 21% (normal air), will definitely be deco
PSI/Bar in: 200 - 12 liter tank
PSI/Bar out: 100 bar
Pressure group out, from tables or wheel: n/a
Description of dive:
Well conducted I thought with lots of navigation awareness. Having agreed we would go inside the breakwater for 320 dirhams with two divers, Mike and Sandra, in the end we had 3 divers, Spencer replacing Sandra, and Mike opting for a second paid dive, with a paid total of 550 dirhams. Therefore we got Ayam to agree to take us to OCB and the secret reef. But at the mouth of the harbor we got hit by the high swells we'd been warned about in the weather report at 02-666-7411. So we turned tail and headed inside the breakwater for a day of not so bad diving really.
First dive, got everyone in the water ok, down the anchor line for Mike Parry and I, and on the bottom where I got Mike Lake to do an oral inflate fin pivot and mask clear while the others were checking buoyancy. At some point, had to race up and grab Mike P who rather innocently headed for the surface despite perfect grasp of the theory, and same for Spencer who yo-yo'd as well (but actually, I let him go and return on his own, not my student, and I had my students to keep my eye on, such are priorities, at least I could see Spencer and the 2 others the whole time). Not long into the dive, found a rock and had Mike out and back it on a north south heading; he did fine. Later did a buddy breathing exercise with him. During the dive we checked on the state of staghorn coral, coming in quite nicely, and with one diver, forget who, at 100 bar and the rest over, I modeled a square pattern to look for rays in the sand, found none, but arrived back at the rocks I had departed from. We headed back and at some salient landmark went south and east looking for the boat, surfaced just meters from it.
Surface interval: 40 min
Pressure group at start of repetitive dive: on computer, n/a
My 439th Logged Dive since 1991
Dive site: Inside the breakwater right
Training conducted: Mike Lake's PADI Open Water Dive #4 for certification
Data from dive computer: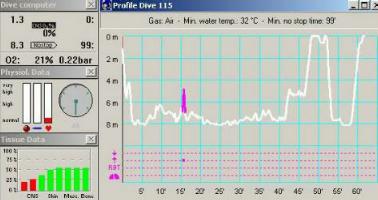 Time down on dive computer: 11:05
Max depth: 8.3 meters
Time started up from chart: 58 min
Dive time from computer: 55 min
Min Temp: 32° C
Nitrox 21% (normal air), no deco
Pressure group out, from tables or wheel: n/a
Description of dive:
I had briefed the guys on the boat to be on the lookout for gopies and crayfish who excavate for them, and we found lots of those, with the crayfish coming right out in better displays than I'd ever seen anywhere before. One gopie in fact was seen to house two crayfish, in a spate of polygamy that probably should be reported to the authorities. On the boat I had established that Mike would lead us in square compass pattern to look for rays, which he did, and on his third leg we indeed spotted one, a spotted one as a matter of fact, leopard colored. I clacked like crazy but Mike was glommed on to his heading and said later he didn't hear me, and Spencer was lagging too far behind to see, but Mike Parry saw it. I'd never seen that kind of ray or skate at that or any dive site before so I was thrilled. Great diving, far exceeded expectations as far as I was concerned, and the lads seemed to get a kick out of it.
Mike had completed cramp removal, tired diver tow, wt belt and scuba unit remova/replacement during the surface interval

Use the navigation at the top of this page or your browser's BACK button to return to a previous page

For comments, suggestions, or further information on this page, contact Vance Stevens, page webmaster.

Last updated: June 21, 2002 in Hot Metal Pro 6.0