Main Homepage: http://www.vancestevens.com
More Scuba: Back to Vance's Scuba Page | Return to Vance's Logbook contents
Navigate logbook: Logbook for 2002 | previous dive | next dive
---

Dive Logs for Vance Stevens
PADI open water scuba instructor #64181
Dive 444-446
July 4-5, 2002
Khor Fakkan
Shark Island, Dibba Rock, Pinnacles
Diving with: Scuba 2000, Khor Fakkan
Dive buddies: Mike Parry's 4th Open Water training dive, for certification, fun dives on Friday. Jonathan Langley's 2nd, 3rd and 4th Open Water training dives (for certification); Nadir Bushnaq, aborted discovery dive. Ali Bushnaq along for fun on the Thursday.
Others in dive party: Al Sharifi on the Friday, saw Saeed on Thu
Conditions: almost calm, some surge
Visibility: 5 meters
Wetsuit: Black Bear .5 mil skin
Weight:8-10 kg, overweight to accommodate novice divers
Diving from:Scuba 2000 boat with Deden and Hassan at the helm
My 444th Logged Dive since 1991
Dive site: Shark Island
Training conducted: Mike Parry's 4th Open Water training dive, for certification; Jonathan Langley's 2nd Open Water training dive
Data from dive computer: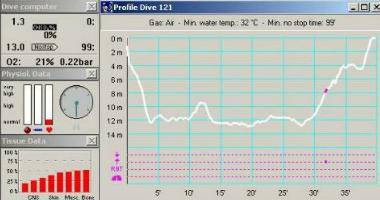 Interval on computer from previous dive: nil
Time down on dive computer: 16:58
Max depth: 13 meters (planned to keep it to 12)
Time started up from chart: 35 min
Dive time from computer: 38 min
Min Temp: 32° C
Nitrox 21% (normal air), no deco
PSI/Bar in: 220
PSI/Bar out: 90 bar
Pressure group out, from tables or wheel: n/a
Description of dive:
Khor Fakkan, Jonathan and Mike Parry and I sharing a room at Scuba 2000 (Mike left early and thinking the room was 200 offered 100; when it turned out to be 150 Jonathan was happy to pay the extra 50, so I slept on the floor for free). First day, Hassan had some beginning discovery divers around and wanted to take them to Shark Island where there was a beach entry. He left early and sent Deden back to collect Jonathan, Ali, Mike, and I for Jonathan's second dive and Mike's 4th and final. We got over to Shark Island in long afternoon shadows and went in at the northeast point to work our way west. My divers did well, stayed together despite slightly murky conditions, keeping to 12 meters on the boulders, slightly up off the sand. We got Jonathan's exercises out of the way, and Mike's hover and mask removal/replacement. We found a scorpion fish and Mike said later he saw a guitar shark but didn't bother to tell anybody. Not a great dive but a pleasant one. Back at Badiya, Jonathan and I started pool module 4 in the shallows off the dive shop, followed with G&T and bbq and beer back at the pleasant compound.
Surface interval: overnight
My 445th Logged Dive since 1991
Dive site: Dibba Rock
Training conducted: Jonathan Langley's 3rd Open Water training dive; Nadir Bushnaq, aborted discovery dive
Data from dive computer:
Surface interval: 8 min (after dive with Nadir)
Pressure group at start of repetitive dive: on computer, n/a
Time down on dive computer: 11:06
Max depth: 14.4 meters
Time started up from chart: 52 min
Dive time from computer: 53 min
Min Temp: 29° C
Nitrox 21% (normal air), no deco
Pressure group out, from tables or wheel: n/a
Al Sharifi turned up to dive along with a coterie. I started the day with Jonathan doing the skin dive portion of CW 4 and then kitted up for CW 5 while all the others gathered at the boat waiting for us to finish. We delayed them half an hour and then went to Dibba Rock. Ali had enrolled Nadir in a discover diving course and Hassan had him watch a video but decided things had got too logistically unweildy to be able to do much more with him, so I agreed to take him on his discover dive tour. Hassan explained that he usually did this at Shark Island where there is a sloping beach. He takes the students in the water, has them recover and clear a reg, partially flood and clear a mask, and do shared air exercise. Then he takes them directly diving. I had wanted to take Nadir with me for these exercises when I took Jonathan for his CW work, but at the time we were heading out, Nadir had not been around (maybe watching the video), and I've already mentioned others were waiting.
Arriving at Dibba Rock, I saw my first problem would be finding a suitable sloping beach environment, so I snorkeled to the rock and found a sand bottom, swam back and got Deden to drive us there. Jonathan and I buddy checked and took Nadir's tank over the side with us, and we all snorkeled to shore where we kitted Nadir up. We ran him through a buddy check and got him familiar with the gear, this his first time to use it, and already he's in the deep end so to speak. The we tried to get him down to that sand bottom. Unfortunately he had ear problems and couldn't descend, and in shallower water there was a bad surge, complicated by the fact that his tank came loose from his bcd (it had been kitted by someone back at the dive shop - always wet the strap first!). Jonathan repaired that while I held on to Nadir and guided him around the rocks but couldn't get him down below a couple of meters, so I decided to go to a shallow ledge with him. Here we were buffeted by surge action, but I got him to clear a reg and recover one. He was underweighted so I put a weight from my belt in his bcd pocket. Then we did an alternate air source exchange. He put the reg in upside down and bubbles came up into his face mask. I tried to get him to reverse the reg but couldn't get it across to him. Meanwhile he seemed to get increasingly distressed and after a few moments, he headed for the surface. Turned out he had not been able to clear his reg. He could have pressed the purge button but he didn't think of that (despite having practiced a purge clear just moments before) and had not had breath to clear it. Clearly the video and this crash course in difficult conditions did not constitute adequate training, and there safely on the surface I realized the futility of what we were doing. First time I'd ever taken a beginning diver down with essentially no training, an 11 year old at that. The task load was too much, and I called for the boat.
With Nadir safely aboard, I started a 50 min dive with Jonathan. Quite a nice one, we went halfway around the island from deep to shallows, traversing several diverse boulder and coral garden topographies. We looked for rays but found none, though I did find a pipe fish, a docile curio I handed to J. We saw a few morays, and at some point a ramora got on our slip stream and shadowed us closely for a good quarter hour. J's air was holding out nicely at last, and we ended in an area of large bommies with lots of entertaining fish, nice long dive.
At the surface we had to wait a few minutes for the boat to appear. As it approached it startled a torpedo-shaped fish into skimming the top of the water. This fish headed straight for us, on the third or fourth hop zooming right by us looking to be going 120 km or more, in the fast lane. He popped onto the surface of the water and momentum and muscle launched him for seconds at a time, like a skipping stone. He was not a flying fish, had a silver straight and narrow body, looking for a lifestyle change perhaps, definitely was going to end up in a different section of ocean, good thing he didn't hit us.
Surface interval: 66 min
Pressure group at start of repetitive dive: on computer, n/a
My 446th Logged Dive since 1991
Dive site: Pinnacles
Training conducted: Jonathan Langley's 4rd Open Water training dive for Certification
Data from dive computer: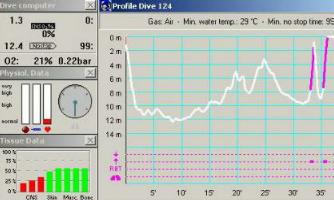 Time down on dive computer: 13:07
Max depth: 12.4 meters
Time started up from chart: 35 min
Dive time from computer: 34 min
Min Temp: 29° C
Nitrox 21% (normal air), no deco
Pressure group out, from tables or wheel: n/a
Description of dive:
Final dive of the weekend was at the Pinnacles, always a good dive. We did the last of Jonathan's surface exercises beforehand to increase our surface interval. Heading down we encountered a school of juvenile barracuda just below the surface. We found a ray on the east side in the deepest sand, and numerous morays. Usually I push up the central valley and over the top but this time I bore south and went around the rocks, ending in a maze of fish-rich alleys. With my compass I kept my bearings, and eventually turned to the north to lead us right to the mooring chain. Jonathan and I practiced emergency swimming ascents there. After a couple of those, 30 min into the dive, J was ready to call it a day so we boarded the boat and headed home.

Use the navigation at the top of this page or your browser's BACK button to return to a previous page

For comments, suggestions, or further information on this page, contact Vance Stevens, page webmaster.

Last updated: July 18, 2002 in Hot Metal Pro 6.0