Main Homepage: http://www.vancestevens.com
More Scuba: Back to Vance's Scuba Page | Return to Vance's Logbook contents
Navigate logbook: Logbook for 2002 | previous dive | next dive
---

Dive Logs for Vance Stevens
PADI open water scuba instructor #64181
Dive 449-450
July 12, 2002
Oman
Damaniyite Islands: Garden of Eden and Doc's Wall
Diving with: DivEco at Al Sawadi Beach Resort
Dive buddies: Fun diving with Russell Bowen and Dave Propst
Others in dive party: customers of the resort, Dion leading
Conditions: calm seas, gentle breeze
Visibility: 15-20 meters
Wetsuit: Black Bear .5 mil skin
Weight:6-8 kg, overweight because Dave P experimenting with his own weight
Diving from:DivEco boat
My 449th Logged Dive since 1991
Dive site: Garden of Eden
Training conducted: none
Data from dive computer: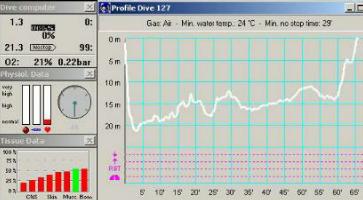 Interval on computer from previous dive: overnight, 20 hours, 32 min
Time down on dive computer: 10:14
Max depth: 21.3
Time started up from chart: 60 min
Dive time from computer: 64 min
Min Temp: 24° C
Nitrox 21% (normal air), no deco
PSI/Bar in: 200
PSI/Bar out: 30 bar
Pressure group out, from tables or wheel: n/a
Description of dive:
Second day July 12 at Al Sawadi, first dive, we went to the Garden of Eden, which is the north side of the west point of Quwais Island. We dropped in off the point on a one-way dive heading east. Before the dive, I had to switch tanks 3 times to find one with over 200 bar, and that one needed a new o-ring, so we weren't first in the water as before. The dive turned out to be a very pretty one. There was nothing big to see on this dive except for a few turtles, and some big honeycomb morays, but it was a lovely dive. Vis was excellent, 20 meters, like a swimming pool. The fish life was amazing against a backdrop of hard and soft corals, purple and white. Dave had dropped some weight from the previous day and was doing well on air, but went up with Constantine, who had sort of come along with us by virtue of having entered the water without a buddy (he had agreed to ascend alone if need be). Russell was doing very well indeed on air, and we were fairly evenly matched. Consequently at the end of the dive it was Russell and I again meandering over the bommies looking for rays and leopard sharks but finding morays and turtles. One can't complain. It was an excellent dive.
Surface interval: overnight
My 450th Logged Dive since 1991
Dive site: Doc's Wall, Northwest corner of little Jun, heading west
Training conducted: none
PSI/Bar in: 200
PSI/Bar out: 30 bar
We pulled up on a sand patch to anchor out our surface interval. We did some snorkeling, me not seeing much, but Russell came on one of those meter plus tuna.
Data from dive computer:
Surface interval: 1 hour 20 min
Pressure group at start of repetitive dive: on computer, n/a
Time down on dive computer: 12:41
Max depth: 17.1 meters
Time started up from chart: 52 min
Dive time from computer: 64 min
Min Temp: 28° C
Nitrox 21% (normal air), no deco
Description of dive:
Second dive we rounded Little Jun to the east and dropped in for a westerly one-way down what Dion said was Doc's Wall. Amazing how the dive site names change. This was a very nice dive as well. I remember lots of lobsters, crayfish actually, including one walking brazenly about within his shelter. There were swarms of fish spewing about all over the place, by this I mean schooling in waves that ebbed and flowed, and I recall that these fish were bumping into and disturbing the crayfish which seemed to feel they had to guard their lairs against intrusion by each fish on a case by case basis, warding them off as they swarmed by. What a way to spend the day! At one point we saw a pair of nudibranchs stuck on each other end to end, fully articulated, truly amazing creatures, planaria heads groping if not one another then whatever morsels would be available. Again we saw a ray or two. On this dive Russell's air was again holding out while Dave and Constantine were breathing it down not overly much, but tending toward the surface after 40 min or so. I was patrolling the reef at depth, while Russell prefered to swim higher up and out over the sand to keep an eye out for big stuff. Every now and then he would point to something, but wiggle his hands antler-like to indicate lobster, etc. Dave and Constantine had let me know they were on their last breaths of air when Russell started indicating excitedly what turned out to be our last leopard shark. Russell and I went down to where he was at around 16 meters while Dave and Constantine hovered overhead, getting a last view before ascending. Russell and I got as close as we thought would not disturb the animal and left him for the other divers, none of whom came upon him on their last dive there. We then rounded the point and gassed off in the shallows, spending our last 3 min at 5 meters in a swimming pool of coral and fish, pleasantly hovering in the water slightly warm in the shallows.
Pressure group out, from tables or wheel: n/a

Use the navigation at the top of this page or your browser's BACK button to return to a previous page

For comments, suggestions, or further information on this page, contact Vance Stevens, page webmaster.

Last updated: July 20, 2002 in Hot Metal Pro 6.0