Main Homepage: http://www.vancestevens.com
More Scuba: Back to Vance's Scuba Page | Return to Vance's Logbook contents
Navigate logbook: Logbook for 2002 | previous dive | next dive
---

Dive Logs for Vance Stevens
PADI open water scuba instructor #64181
Dives 453-454
September 2002
Musandam
A couple of coves between Dibba and Fish Head Rock
Diving with: Jerry and his crew, our first time with them
Dive buddies: Dusty and Bobbi
Others in dive party: Jerry Morse and I remember Susanne for reasons given below
Conditions: rough seas, calm inside the coves
Visibility: 6 meters or so
Wetsuit: my ScubaPro .5 mil skin
Weight:8 kg-ish
Diving from:one of Ali's Oman registered dive boats
The weather looked bad on the drive down, windy and clouds out to sea. At the harbor, didn't look too rough. The boatman had gone to get gas (none at Oman Dibba harbor apparently) and he must have agreed because on return we decided to go north to Lima Rock after all. On the way, one lady started barfing over the side and at around Fish Head Rock we developed engine trouble and were forced to abort further progress to Lima and decided to shelter in the coves thereabouts. Jerry wanted to dive the coves rather than the mouths because of his novice divers, so Bobbi and Dusty and I were forced to make some rather long schlepps to reach the mouths of the coves where the diving was at least interesting.
Fortunately we had the air for it. I had brought my 8 liter pony and we agreed that first down to 100 bar would sample from the bottomless tank. This was Dusty on the first dive. In a further modification of my rig I had put the reg with the long hose on my tank, much easier for me to handle the hoses that way, so when Dusty needed air I gave him my reg and let him breath from my tank while I breathed on the other hose or from the pony, whichever I thought appropriate. Worked well, and we balanced air in this way among the 3 of us so we could extend all our dives to an hour or more
My 453rd Logged Dive since 1991
Dive site: First cove Dibba side of Fish Head Rock
Training conducted: none
Data from dive computer: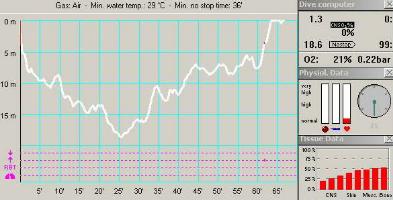 Interval on computer from previous dive: nil, first dive of day
Time down on dive computer: 9:40
Max depth: 18.6 m
Time started up from chart: 60 min
Dive time from computer: 62 min
Min Temp:29 degrees centigrade
Nitrox 21% (normal air), no deco
PSI/Bar in: 220
PSI/Bar out: 50 bar, ish
Pressure group out, from tables or wheel: n/a
Description of dive:
First cove back from Fish Head was interesting because of all the eagle rays about. Funny, we were the only divers to see them. Except for a turtle, we had a sort of boring dive out to the mouth but at that point kept going over the sand and found an eagle ray resting there. After he moved off we saw him again or perhaps his mates on two more occasions traveling ripple-like through the water. We turned and headed back into the cove, finding our way to landmarks (watermarks?) showing us where we had first entered the water. Under the boat we found a patch of brown coral full of little wrasse and other fishies and we entertained ourselves on observing them till our time ran out and air ran low.
Surface interval: 1 hour 41 min
My 454th Logged Dive since 1991
Dive site: Second cove back from Fish Head Rock, long one
Training conducted: none
PSI/Bar in: 210
PSI/Bar out: 50 bar, ish
Data from dive computer: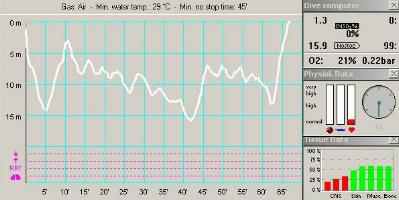 Surface interval: 1 hour 21 min
Pressure group at start of repetitive dive: on computer, n/a
Time down on dive computer: 12:28
Max depth: 15.9 meters
Time started up from chart: 63 min
Dive time from computer: 65 min
Min Temp: 29 degrees centigrade
Nitrox 21% (normal air), no deco
Description of dive:
For the second dive we opted to move to the next cove down, this one a deep one. We went well into it where the water was calm and ate our lunch. After an hour, we headed back to the entrance but stopped half way to let Jerry and 3 others into the water first. The other divers all followed at that spot. Bobbi and Dusty and I lagged till last and had the boatman take us up a hundred meters more toward the mouth. Thus we got in ahead of all the other divers in what turned out to be for all of us a grand schlepp to the mouth of the cove.
We were lucky. We saw an eagle ray right where we had asked to be put in. But the rest of the long haul to the mouth of the cove was boooo-ring. Plus it took us 40 min to get there. At least we had 20 min to spend in the rocks in the deep end. They were reminiscent of Martini Rock with purple and yellow soft corals. We found turtle among them. We were heading back into the cove when we encountered Jerry and his crew on his way out. Since it was a one-way dive, we returned to the boulders but had to surface minutes later.
There was a diver among us by name of Susanne who exhibited prohibited behaviours and who I thought set a very poor example for the novices among us. Jerry was the instructor in charge and she was his invitee, and it's up to him to speak to her, so I'll limit my remarks to what you see here. First, her partner surfaced and she then submerged and continued her dive alone. Secondly, on that portion of the dive, she saw one of the large crawfish we'd all enjoyed observing on our own dives but she took the trouble of pulling it from its hole and bringing it onto the boat with her. She then set it on my dive bag and let it dehydrate until I asked her to remove it from there, and I presume she took it home and ate it. I hope she enjoyed it (a shame if having removed it from further observation by divers she let it go to waste) but certainly diving alone and the ecologically unfriendly act of disturbing the wildlife while doing are habits that 99% of divers in the region abhor and scrupulously avoid. Diving in pairs is not only vital for safety but also reduces the chance (to next to nil) that a scofflaw will on his/her own be able to violate the environment. If I dive with Jerry again I'll ask him to please include prohibitions on diving alone and on touching the wildlife in his dive briefing, as I would not be able to continue diving with any group where violations of law and safety standards are tolerated.
Pressure group out, from tables or wheel: n/a

Use the navigation at the top of this page or your browser's BACK button to return to a previous page

For comments, suggestions, or further information on this page, contact Vance Stevens, page webmaster.

Last updated: October 25, 2002 in Hot Metal Pro 6.0