Main Homepage: http://www.vancestevens.com
More Scuba: Back to Vance's Scuba Page | Return to Vance's Logbook contents
Navigate logbook: Logbook for 2002 | previous dive | next dive
---

Dive Logs for Vance Stevens
PADI open water scuba instructor #64181
Dives 463-464
November 29, 2002
Khor Fakkan, UAE
Martini Rock & Cove and Shark Island beachfront
Diving with: 7 Seas
Dive buddies: Mike Parry, Abdulkader Abutouk, and Andy Dilley
Others in dive party: Flor Pesigan on the boat; Kathleen and others dove the New Wreck
Conditions: pleasant and calm
Visibility: 6 - 7 meters or so
Wetsuit: my 5 mil farmer john with the 5 mil Typhoon top
Weight:10 kg-ish
Diving from:7 Seas dive boat
Friday, November 29, 2002
My 463rd Logged Dive since 1991
Dive site: Martini Rock & Cove
Training conducted: Mike Parry's and Abdulkader Abutouk's PADI Advanced Boat dive; Andy Dilley's scuba tuneup dive
Data from dive computer:
Interval on computer from previous dive: nil, first dive of day
Time down on dive computer: 14:25
Max depth: 15.4 meters
Time started up from chart: 57 min showing on computer at time of ascent
Dive time from computer: 44 min (the computer deducts time on surface from time of dive)
Min Temp: 25 degrees centigrade
Nitrox 21% (normal air), no deco
PSI/Bar in: 200 in main tank
PSI/Bar out: 80 bar on main tank
Description of dive:
We arrived at 7 Seas in good time for our scheduled 13:00 dive. We had been promised a boat to ourselves even if only Mike and I had come, but Flor, Andy, and Abdul had booked on at the last moment. Thinking it would be just the 5 of us, we were surprised to find the boat full of another 8 or 10 divers when we arrived at the dock. These were Kathleen and her crew, and though they were no trouble to us, they dove the wreck near Martini Rock and thus delayed us slightly arriving at our site.
As things will compound, there were further delays while our crew re-familiarized themselves with equipment and dropped down the ladder (at my suggestion) checking weights needed for rented wetsuits. Flor and Mike had both been my students, but Andy and Abdul were both diving after long hiatuses, and though Andy was an OW Advanced diver, Abdul had only done his two double-dives with Al Sharifi prior to the dive we were doing on the day. He turned out to be a fine diver, but I figured he'd be the wildest card in the bunch.
When all were ready to go, I had us all meet at the anchor line, which was draped destructively over the top of the rock just a couple meters below. Why don't they put a mooring buoy out there? (Probably won't till it's too late; already the bottom is littered with dead and dying white corals). We all signalled down but Flor didn't descend. There was a current and my divers were floating away. I got them to grab the anchor line, pulling them in with outstretched arm. Finally I went up to check on Flor. She had left her own face mask in the car and was diving on a borrowed one, and it was too big and flooding. She had to abort. Meanwhile the other guys had breathed off 10 bar each and were floundering in that area near the surface where compression of wetsuits cannot be overcome. Someone requested more weight. Eight minutes after entering the water we all got it together and descended.
We made our way down the rock and found a moray and the usual tropicals and I was as deep as I wanted to go and rounding the rock to the north when Andy got into buoyancy straits. He was pointed head down at us with his deflator hose held overhead, which is to say down, as he tried to dump from a part of the bcd where there could not possibly be air. I tried to signal him to dump from the kidney, but he didn't understand and was too quickly at the surface. I tried to keep my eye on him as I moved slowly up the rock (as slowly as possible while trying to see where he'd gone, but still too quickly, as can be seen from the purple in my profile). Mike and Abdul followed me to the surface. By now I had lost site of both Andy and, because of the current, the rock.
Andy was not to be found on the surface, but in our briefing I had reminded all of what to do in case of buddy separation, and there was nothing for us to do but wait for him to appear. Thirty LONG seconds later, he popped up top, far down-current from us, and Mike and Abdul getting strung out his direction. I tried to get everyone to swim to where I thought the rock should be but I never saw it again. Meanwhile the boat came up from collecting the divers from the nearby wreck. I refused pickup and asked where the rock was, but a check of everyone's air, less than 100 bar in at least one case, suggested we should dive the shoreline and forget the rock. The boatman said he would drop those on board in the port and come back for us. Again, it would be safest if we dived shallow, with a shoreline exit.
This we did, and the remainder of the dive was not all that interesting. Abdul was first to surface but could be seen clearly from the bottom, so we kept Andy with us till he hit 50 bar, and he joined Abdul up top. Mike and I continued diving a while longer. We found a cuttlefish, and we unfurled the reel 30 meters and counted kicks up and down it, but the current threw us off significantly. Mike signalled he was at 50 bar, and so I moved us up to 5 meters for a 3 min safety stop and Mike went down to 40. We surfaced well in control of buoyancy and air consumption. The boat had just arrived from its errands as we finished out dive.
Pressure group out, from tables or wheel: We calculated out on the tables a 16 meter dive based on my total time in water including ascents and surface time and came up with Pressure Group R (which I now see from computer data should have been S; 57 min. at 16 meters). Still this was a very conservative est. of our residual nitrogen. Either way, after 45 min SI our pressure group in would be I, giving us an adjusted NDL of 63 minutes if the next dive were down to 14 meters, which was unlikely, as we were planning to do Underwater Navigation in 6 to 9 meters of water off the beach at Shark Island.
My 464th Logged Dive since 1991
Dive site: Shark Island, beach front
Training conducted: Mike Parry's and Abdulkader Abutouk's PADI Advanced Underwater Navigation dive
Data from dive computer: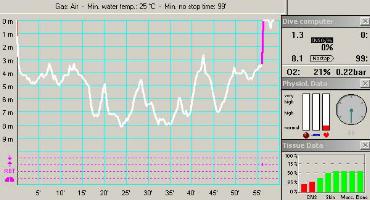 Surface interval: 45 minutes
Pressure group at start of repetitive dive: I
Time down on dive computer: 16:13
Max depth: 8.1 meters
Time started up from chart: 52 min showing on computer at time of ascent
Dive time from computer: 55 min
Min Temp: 25 degrees centigrade
Nitrox 21% (normal air), no deco
PSI/Bar in: 200 in main tank
PSI/Bar out: 70 bar on main tank
Description of dive:
We sheltered over the sand bottom off the sandy beach at Shark Island in water almost too shallow for UW Nav work (I was worried about buoyancy for my divers in such shallow water). Therefore, we finned over to the reef away from the beach where we could get a little deeper. There was no current to speak of here and the water in the evening was calm like a swimming pool. Flor had retrieved her own mask from the car at the harbor but she still didn't feel right and re-entered the boat before we had descended (despite our gentle encouragement that she join us; she said she was tired).
So the four of us descended to about 5 meters and carried out the plan we had rehearsed orally prior to the dive. This was to lay out 30 meters of thread from the reel and count kicks and take time required for travel along it as we laid it out, then swam back to it's anchor point and again out to the reel. So for three trips, the OW Adv candidates were supposed to get kick cycles and time needed to fin 30 meters, and also make note of the route so that they could retrace it without benefit of the reel. This might be difficult because this coral head was a mass of nondescript xxx coral, with little in the way of salient features along it. I noticed myself that there was a line stretched across it and a buoy on the line with a black sponge attached to it. Further along, there was a plastic cup stuck in the coral. After 30 meters we came out in the sand just beyond the coral at a place with a bit of rope attached, the rope streaming up above the coral.
After getting the measure of 3 meters, I took up the line from the reel and waited for Abdul and Mike to find us supposedly on dead reckoning. I was going to give them 2 minutes and if they didn't appear in that time, I'd surface and look for them (they were supposed to surface too). We didn't need to invoke plan B because they appeared over the coral, looking at their compasses, which they weren't supposed to be doing, as this was supposed to be a dead reckoning exercise.
They were then supposed to take us back to the end-of-reel point, again on dead reckoning, and again they took compass bearings, but at least they took us back to the sand beyond the coral, to the correct spot.
I seem to have forgot a step. Somehow we ended up at the start point where we'd made a pile of sea cucumbers. We were supposed to do out and 180 degree headings back from there but I thought it would be more fun to do that on the ocean side of the coral, where I'd seen the rope trailing up. I took us back to that spot, being careful to find my line and plastic cup, and at the sand the rock with the buoyant line was clearly visible. We did our reciprocal out and back headings from there, each diver going about 30 meters and reclaiming the starting point dead on.
It was now time for Mike to do his square pattern. He started for the south but to my measurement stopped after only 20 meters or so. I let this go. Too hard to communicate down there, air was being depleted, and if each leg were the same length it would still be a square. He turned to the right, set his course for east, and finned over the coral and straight on to a turtle. Here we paused to observe and not startle the creature, who stayed where he was, looking back at us. After a pause, we resumed, finning carefully over him. He didn't move off his spot, and Mike stopped at about the place where I thought he should have. He turned to the north now, and this time passed over another turtle ... and anOTHER. By now Mike's concentration and measurements were shot. Mine were too I guess, since I was doing my own square alongside his. We were almost to the sand already. We turned west, went 10 meters to the sand (no point going further, since our marker was somewhere on the sand line), but couldn't find the rock with the line trailing up.
Nevermind, now it was Abdul's turn. We made another pile of sea cucumbers and put a bit of coral on top. Abdul brought up his compass and headed out on a 300 degree heading. Not north, not west, 300 degrees. I quickly bracketed north on my compass and followed. He went 30 meters, turned left, and resolutely resumed his course. I saw that east was now bracketed in my compass. The same with the next two turns, south and then west were bracketed, with Abdul finning 30 meters spot on. At the end of this he came out right on the pile of sea cucumbers. Well done, I was impressed. (Turns out he's a surveyor in real life).
By now both Mike and Abdul were low on air so we swam to the beach side of the coral and sent them to the surface. I saw that Andy, like me, still had 100 bar, so we decided to go out in search of turtles. We swam back to south west over the coral but saw none. In the sand we continued south with the coral on our left. I figured if we continued too far we'd round the island. I was wondering if the boat would find us when I saw, with the coral still on our left, that we were almost inexplicably heading north. There had to be an explanation of course, but underwater, in that environment, it can be hard to figure out sometimes. Intuitively we should be still on the ocean side of that coral and heading south, or perhaps if we turned the island, to the east. But north? I was confused until I spotted the line, and on the line the buoy, and on the buoy that black invertibrate, and then I realized we had headed around the coral bommie, not the island. We were now coming up the beach side of the coral. I headed right into the shallows, and we surfaced at about the place we had begun our dive.
At the end of the day, the diving was not all that exciting. We could have accomplished much the same in the waters off Abu Dhabi and saved 7 hours driving (normally we drive to the east coast for the quantum improvement in fish life etc we get over there). But still we had a good time, and the guys all settled down and got themselves back into diving. Hoping to see them all again soon.
Pressure group out, from tables or wheel: n/a

Use the navigation at the top of this page or your browser's BACK button to return to a previous page

For comments, suggestions, or further information on this page, contact Vance Stevens, page webmaster.

Last updated: December 6, 2002 in Hot Metal Pro 6.0