Calling Houston! Calling Houston! Come in, Houston!
No, this was no call from any Space mission. It was pretty much how I tried to get in touch with Vance through Yahoo Messenger at his parents' home in Houston, TX this evening!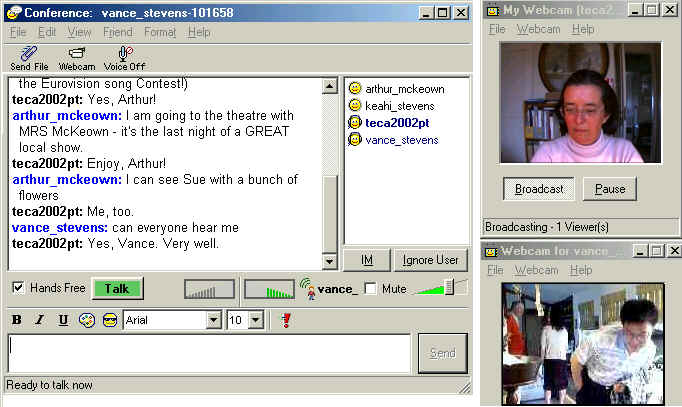 About 5 mins after we got in touch, I heard Vance greeting Susan and her friend, Wilson. I just love his natural curiosity (above)! Immediately after he arrives, he goes and looks at Vance's computer to see what's going on! Who wouldn't? Then I heard Vance introduce his online friends: Arthur in Ulster, Teresa in Lisbon and his son, Dusty, in Abu Dhabi. Things went quite well for the first 15 mins. But then. . .
Problems! Problems! Problems all connection long!!! (Doesn't that sound like the Everly Brothers?)
However, Rita in Argentina and I finally meet virtually f2f for the first time. It was a happening!
I just love her sweet way of confirming that we are finally together! You can also see that connections are not as usual.
In the meantime, I await Vance's permission to see his webcam, which had gone down for a while.