WEBHEADS WEBCAM SESSIONS
10Feb02
Vance Stevens in Abu Dhabi (UAE) and Teresa in Parede (suburbs of Lisbon), Portugal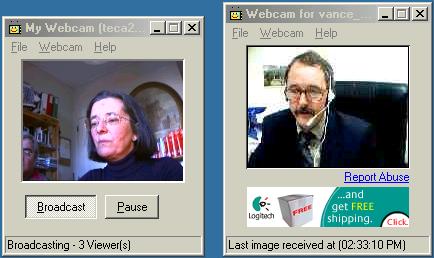 What a fabulous Tapped In session we had today! And so diversified. And with so many people in so many different parts of the World!!!
We started at TI talking mainly about Carnival and looking at two pages created by Susanne, Dafne and Teresa for the occasion. Then we moved on to Yahoo Messenger where we started with voice chat and finished with a webcam chat (a couple of us, anyway). What an experience!
15Feb02
As far as I can remember, Chris Fry was supposed to have done a session on the chat at The LearnEnglish Chat site (http://www.learnenglish.org.uk/chat_frame.html) this afternoon. I don't think there was a session (was there Chris?), but I do know that some of us ended up together in iVisit, including Chris. Just don't ask me how this happened. (If someone can fill me in on that 'mind gap' (?!) of mine, I'll gladly add the info here.) Anyway, we tried to get our webcams working and also did some voice chat. Others were in Yahoo Messenger and we commuted to and fro. It was an amusingly diversified session and an amazingly international group!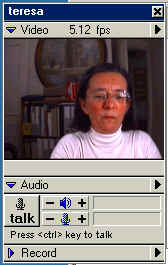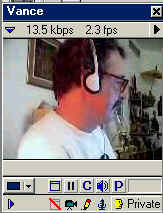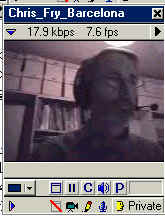 Teresa in Lisbon (Portugal), Vance in Abu Dhabi (UAE) and Chris in Barcelona (Spain).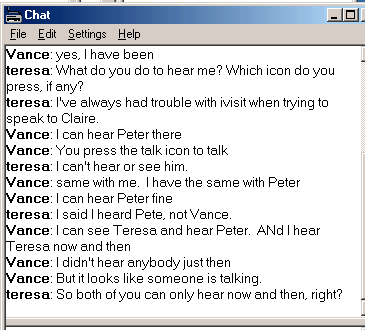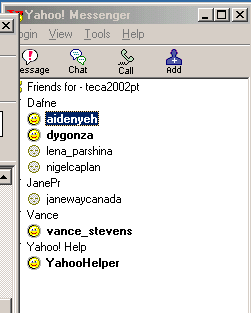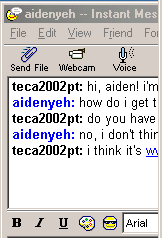 Teresa chatting with Aiden Yeh in Taiwan.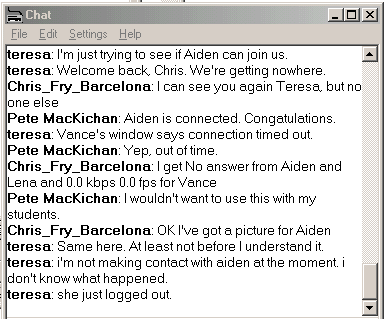 At this point, a top-level EU meeting was taking place!!! Pete in Thessaloniki (Greece), Chris in Spain and me in Portugal! ;-)
10Mar02
This was another experimentation session. We were at Tapped In, as usual on Sundays, and some of us - Vance, Dafne, Arthur and me - started fooling around with our webcams in Yahoo Messenger . . .
while keeping the conversation going at TI and. . .
voice conferencing at the same time.
Who would have told me, a few weeks ago (mid January), that I'd be using all these (a)synch tools and multitasking in such a short time!!! ;-)

I still have a lot to learn to master some of them, but the important thing is that the Webhead community got me going.

Thank you, everyone, for all the collaborative learning, the fun and the fabulous bond we all made possible! Let's keep it going!

A very special 'thank you' to you, Vance, for making all this possible! Will keep in touch. Best of luck to you and the family! God bless you!
18Mar02
These are a few examples of what went on this afternoon during Vance's and Dafne's presentations for a Professional Development Forum of The Education Technology Special Interest Group Egypt Tesol, entitled The Magic of Educational Technology for Language Teachers and Educators.
This is more or less the beginning of Vance's presentation. He's talking about instructional paradigm shifts (see his Web page left), and teaching and learning with computers. If you look at the 'Voice Conference' window above, you can check that he's speaking because you see his names as well as 'the waves he makes' when he speaks!!! ;-)) From the text you can see that there are still sound problems at this point.

To the right of my picture above, notice that there are several Webheads on line: Arthur in Ulster, Chris in Barcelona, Dafne (co-guest) in Valencia, Ismail in Egypt and myself in Lisbon.

At this moment Vance is enthusiastically showing the Webheads in Action group (?), community (?) page, calling the Egyptian group's attention to the pictures of some of us on line.

I grab the opportunity to comment through text (below) that I prefer the word 'community' to group, because it has to do with a 'bond' and (constant) 'sharing', as Dafne points out.

Vance read our comments whenever he felt appropriate. This mixture of voice and text chat is a very interesting feature of an online conference, presentation, whatever! And one I truly subscribe. I think it helps the presenter feel there is an audience, though in this case he did not see it. (BTW, I was the only one with a web cam.) On the other hand, it gives the audience the chance to interact, as we often do in a F2F situation.

Vance is reminding the group of the upcoming Tesol Arabia Conference. Hopefully I'll be able to get up at 5.30 a.m. next Thursday (Mar 21) and join him! But I may not switch on the Web cam or else everybody may just run away looking at my awful sleepy face!!! See you then, Vance!

Question time for Vance is up and he has given the floor (?), or should I say, the screen ;-), to Dafne. However, you can see that there is still a question in the air from Sesnawy, a.k.a. Susan, who works in Cairo. She teaches academic English to freshmen. Later on Vance and Susan chatted for quite a while and I suspect that by now Susan is a committed and resourceful WiA! Hope I'm right in saying 'Welcome, Susan!'.

Dafne paying a very sincere and well-deserved tribute to Vance on his fabulous work with the WiA's over these eight weeks.

To wrap things up, this is the print screen I made towards the end of the session. When Vance mentioned Wimba voice boards earlier,

I opened my own (top left). While Vance and Sesnawy/Susan were carrying on their chat (top right),

I was in a private voice and chat conference with Arthur, in Ulster (bottom left).

In the meantime, I had the Yahoo Messenger window open

ready to invite a WiA member on line

to join Arthur and me,

or just me!

WHAT AN AMAZING WORLD

OF (A)SYNCH COMMUNICATION TOOLS

OUR EFL/ESL STUDENTS have at their fingertips!

I HOPE WE CAN START OR CONTINUE (WHATEVER THE CASE) TO have THEM

experience AUTHENTIC LANGUAGE with THESE FABULOUSLY MOTIVATING AND DIVERSIFIED means!

what a great time to be a student and a teacher!

what next? what else?!

more learning together!

more practicing together!

more fun together! as webheads in action!!!
21MAR02


The beginning of Vance Steven's Technology Fair Presentation, Webheads in Action: Community development online, at the 8th Annual TESOL Arabia International Conference: "Critical Reflection and Practice". Abu Dhabi, UAE, 21 March 2002.

On line are Vance, Dafne in Valencia (Spain) and Teresa in the Lisbon area (Portugal). It is 10.00 a.m. in Abu Dhabi, but 06.00 GMT for us in Europe!!!

The sound seems to be working all right. But not always.

This was my first participation in a Conference through videoconference. It was very exciting and interesting!

In the meantime, Arthur McKeown, in Ulster, joined us. Four Webheads in Action!!!

Vance is busy explaining the Webhead community, demonstrating this new tool and inviting people to talk with us.

All along the presentation, Arthur and I maintained our own private chat on the side, and talked about his upcoming presentation at the IATEFL Conference. Busy, busy, busy!!! Good luck, Arthur! I'll send my comments a.s.a.p.

Vance and some Conference participants at the Tech Fair. I had the pleasure of talking with all of them. Arthur talked to a few and poor Dafne seemed to have had connection and sound problems, so she wasn't very lucky.

As you can see below, the sound from Abu Dhabi did not always come through clearly,

so I'm sorry to say I missed the names of the people I talked to.

If any of you see this page and are willing to identify yourselves, please send me an email.

The end of Vance's presentation. Arthur's enthusiasm with these new synch tools is obvious.

I hope I've demonstrated all along this page how I feel about them and all the possibilities they open up for ourselves, more importantly, for our students.

Congratulations, Vance, on a job well done! Once again, thank you for having introduced us into this exciting feature of new technologies. :-))
Updated 21Mar02
Created 10Feb02
Teresa Almeida d'Eša