This page is a project of Vance Stevens, http://www.vancestevens.com/
Index page | Casablanca | El Jedida | Oualidia | Safi | Essaouira | Marrakesh and back to Casa | Fes | Meknes, Volubilis, and Moulay Idriss | Ifrane and Mt. Ayachi, 3737 m. | Meknes and Tangier | Spain
Bobbi, Dusty, Glenn, and Vance in Morocco and Spain
June-July 2000
CASABLANCA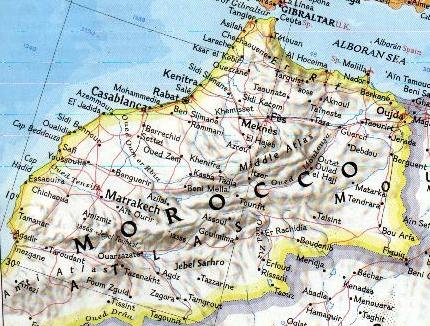 Ground aqueille, even at midnight, was easy at Casa airport, though I became wary when the taxi driver said 200 dirhams when I told him we were going to the town center but changed this to 250 when I told him Hotel Ibis near the main Casa railway station just as we were departing the airport. By way of discussing it with me, he pointed out the decision point road-sign, Casa one way and our destination the other, which was far enough off the town center to require a different approach road. This and the fact that Pete told me it would be $25 reassured me that 250 was the real and fair price. This was the late night price of course. Up to 10 at night you could take a train from Casa Airport to the Gare Casa Voyageurs, where the Ibis was, for just 25 dirhams, not 250. But the flight had arrived after midnight, so a cab was the only option.
Our destination in Casa was in a quiet part of town, where the neat little train station and its grafted on hotel seemed the salient features (there always seemed to be an Ibis at major train stations throughout Morocco). We were glad to have the hotel though. After the infirm departure and doctor in Amsterdam, a rest in a classed hotel, 3-stars officially, would be welcome. Nevermind the roaches on the walls or the occasional scream of the train at night or the heat in the a.m. with no a/c. It was a reasonably comfortable, well organized, and tastefully decorated place (referring to foyer, not boxy rooms). Breakfast was good too, goat cheese and orange slices in addition to the usual baguette and butter and jam, and all the coffee you could pour yourself. The waiter, who apparently doubled as a chauffeur for clientele solicited while he was on breakfast duty, seemed keen to get us on a tour of the town later on, but he was friendly, so nevermind that too.
By the time I'd met the family for breakfast I'd already run into town on my own to see the 'ancien centre'. I'd expected an old medina like the ones I knew from my travels there in the '70's, local denizens dodging donkey carts in streets crowded with shoppers in djelabahs. I had started by determining I needed a number 30 bus, but I ran past my stop because the old walls and taudry concrete cast monuments in the main square had not seemed grand enough for me to disembark. I ended up staying on the bus, asking the guy behind me if we were headed toward the center (it's all the center, his reply) and finally, when he got off, figuring out from the guys who ran the bus and who wondered why I was still on it that I should get off and take a number 11 back there. Which I did and so arrived back at the 'old center', getting off at the right place this time.
There was really nothing to do there. It was earlier than I'd thought (clocks were back two hours from Amsterdam). There were no shopping crowds in the streets. I checked at the train station and found I could get a train back to Casa Voyageurs for 12 dirhams on infrequently scheduled departures, vs. the 3 dirhams I had paid each bus driver. That was interesting because there had been no trains going the other way, I'd been told, only phospate ones. Well, Casa Port as it was called was the actual center of town in Casa, but Voyageurs was the departure point for outbound trains. I chatted up the cab drivers outside and got offered a 20 dirham lift back to Voyageurs (5 km I was told, and by the way, wouldn't I like to visit the Hassan mosque?).
I fled the station area for a walk in the old souk. I had bolted out of bed that morning at 7:45 thinking we'd best be getting up, and realized only later I hadn't set my clock to local time, so it was just 5:45 to Casablancans. I guess I'd had about 5 hours sleep. Still I was curious about the city and wanted to get our onward travel organized, and had got up and about as a result. Consequentially through, I was in the medina at only 8 in the morming. Not much going on there at that hour. It seemed to have enough modernity to make it not that interesting, with the old manifesting itself mostly in poverty and questionable hygiene, so I performed a cursory walk-through, met only an occasional pedestrian, and decided to be on my way.
At the exit, at the square with the cast-concrete globe all done up in latitudes, I found a metered cab to return me to my hotel for 6 dirhams, exactly the price I'd paid on the two bus rides getting there.
Meanwhile back at the Ibis Dusty and Bobbi were almost ready for breakfast. We ate at the plastic picnic chairs off the garden in the back, trains moving noisily in the background. Little did we realize that this was one of the best breakfasts we'd find in Morocco, a varied buffet comprising croissants and goats cheese and orange slices in addition to the normal French bread, jam, and butter. Subsequent breakfasts would be little more than jam, butter, and French baguette, hardly worth the time spent over them. And the coffee was something other than Nescafe. It was a fairly quiet and pleasant hotel for being so near a train station and tracks. Even the square just outside the front door was pleasant and shady with trees, despite the comings and goings of buses and taxis from the train station conveniently next door.
It turned out that the trains would serve us no further that day. There were none where we were going, all towns down the coast toward the former Spanish Sahara: El Jadida, Ouladiya, Safi, and Essouira. For these destinations we would have to take a bus. We left for the bus station by checkout time at noon. Before leaving, we arranged for Glenn to have a prepaid room at the Ibis when he arrived the 20th, with breakfast. We tried to call Pete in Ifrane but he wasn't at home, Saturday the 17th. So we set out to occupy ourselves as pleasantly as possible for the next 3 days.
The plan was for us to reach Marrakech by the 20th. Glenn would be given complete instructions as to our progress and what to expect via cyber-cafes encountered en route. Actually, this wasn't part of our plan -- at this time, we couldn't count on the cyber-cafes, but it is how it happened. It's pretty amazing when for just a dollar or two an hour you can get crucial information out to people who need it from so many places you happen to be in the world. By the time Glenn arrived the 20th he would know what to tell the driver he encountered at the airport, how much the cab would cost, not to worry when the Casa sign pointed the wrong way, and that he had only to get to the hotel and eat breakfast next day and buy a ticket to Marrakesh. We were planning to call him at the Ibis to tell him where to meet us in Marrakesh, from wherever we happened to be.
And Glenn emailed us from a cyber-cafe in Amsterdam that he had received the information while he was en route to meet us. So we knew he had the information as he was on his way.
But this was later. To start our journey, we took a cab to the bus station, a surprisingly modern building with no touts about, another surprise. We bought a ticket for El Jadida on a bus leaving in an hour and went next door to a shady, leafy sidewalk cafe for our first mint tea of our trip in Morocco. I was starting to feel human, no fever all morning, infection not gone but under control.
The trip to Al Jadida would have been about 3 hours but was prolonged when the driver stopped for lunch after only an hour at a roadside eatery where smoke wafted from barbecues and attendants stood ready to serve whatever was in the ceramic cones inverted over plates kept warm over coals. Other passengers on the bus went out of their way to explain that this was tajine, a dish we would come to know ad nauseum in Morocco, and one man even came over to our table to leave us his phone number in case we happened to be back through Casa. Too bad we weren't going to Oualidia, he said, since he could have taken us in there too (we were going to Oualidia, but not on that bus, which we were leaving in El Jedida). He was talking to us at such length that he prevented us from finishing out tajine. When the bus started pulling away, we had to leave the food unfinished on the table.
Top of document, site navigation
Page updated: August 3, 2000 in Hot Metal Pro 6.0