For news of what we've been up to in 2001, visit the Stevens Family Homepage
---
This is to wish you and yours a

Merry Christmas, Eid Mubarak 2001
and a Happy New Year 2002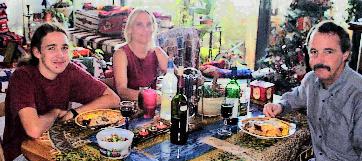 Christmas dinner at our house, Dec. 25, 2001
Christmas 2001 is a little unusual for the Stevens family this year. First of all, for the first time in 23 Christmases, Glenn will not be with us. Glenn is a working lad now, and couldn't get away from his job at Wells Fargo Bank in California to join us in Abu Dhabi for the Christmas holidays off that students and teachers often take for granted.
Vance too had to work this Christmas, the first time that has happened ever that we can remember (even including 5 years in Saudi Arabia and 10 in Oman, Christmas has always been a day off, and in the UAE so far it has either fallen on a weekend or during Eid holidays at the end of Ramadhan - except for last year, which Vance took off in order to enjoy one last gathering of all the family).
So on Christmas morning in the UAE, Vance was at work, 7:30 a.m. while Dusty and Bobbi caught up on sleep (they have the school holidays off). But Christmas morning in San Francisco, Christmas evening in the UAE, we hooked up by video (from our end) with Glenn in California and pretended to open all our presents then.
So let us wish you all a very merry Christmas and holiday season, and we invite you back to visit this page after Dec 25, when we hope we'll have more pictures up from our celebrations this year. And of course we hope to hear from you.
MERRY CHRISTMAS from Vance, Bobbi, Glenn, and Dusty Stevens (and Musky)

Seriously folks, we were sending out those stylistic "brag and gag" letters before the art form was refined, and after that we conjured up Christmas newsletters which were just as bad. Well, this year we are once again at the apex of tackiness with our minimally revised Christmas homepage greeting card. Not only that, but it's essentially the same greeting we sent last year AND the year before (and we can use it just like this next year too, and probably will).

Yessiree bob, for Christmas this year, we are sending out e-mail messages asking people to log on and see for themselves in the event they would like to see what a Christmas card from us would have looked like. And for our offline friends, well, we lost touch with them long ago ...

There is an ecological spin to this. It would probably be nice if at least some of the paper consumed annually in Christmas cards were left in the forest, and imagine the relief at the post office if virtual greetings catch on. But none of this is to dilute the message to our friends, which is that we wish you the merriest of Christmas Seasons and the happiest of New Years.
Click here if you're up for some Christmas humor.
Other linkable Christmas cards for 2001
Sadly, our condolences this year to the victims of terrorism worldwide, in Afghanistan, Israel, New York, and the victims of all the other countries who happened to be caught up in the events of September 11, 2001, and to their survivors enduring Christmas without their loved ones. And to the victims of state-sponsored terror in occupied Palestine, and their survivors bereft of loved ones as symbolized perhaps by their head of state being denied the right to peaceful celebration of Christmas Eve in a holy city within his own jurisdiction.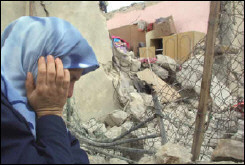 Use your browser's BACK button to return to a previous page
For comments, suggestions, or further information on this page, contact Vance Stevens, page author and webmaster.
Last updated: January 2, 2002
---