Main Homepage: http://www.vancestevens.com
This site has a NetWord: http://www.netword.com/*scubavance
More Scuba: Back to Vance's Scuba Page | Return to Vance's Logbook contents
Navigate logbook: previous dive | next dive
---

Dive Logs for Vance Stevens
PADI open water scuba instructor #64181
Dive 384
April 5, 2001
Abu Dhabi, Bateen Box, outside the breakwater
Diving with:Marina Divers
Dive site: Bateen Box, outside the breakwater
Dive buddy: Rebecca Woll
Others in dive party: Al Sharifi at the helm, Wayne, and 4 other divers
Conditions: calm seas, balmy air, warm sun
Water Temp: 25 degrees C on dive computer
Visibility: 9-10 meters, excellent vis, could see the bottom from the surface and at an angle to the breakwater
Wetsuit combo: typhoon top and O'Neil overalls, just right for 25 degrees
Weight:11 kg
Diving from: Marina divers boat
Training conducted: Rebecca Woll's 2nd Open Water dive\
My 384th Logged Dive since 1991
Data from dive computer:
Time down on dive computer: 11.33
Max depth: 8.0 meters
Time started up from chart: 00:46
Dive time from computer: 41 min. (must have discounted the brief surface interval)
Min Temp: 25 degrees C (comfortable)
Nitrox 21% (normal air), no deco
Pressure group out, from tables: not relevant
PSI/Bar in: 210
PSI/Bar out: 90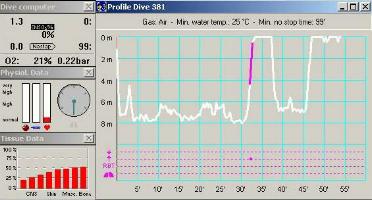 Description of dive:
Vis was great and the water is warming up. Really couldn't have asked for a better day, air temp quite pleasant, water cool but not cold.
We went down the ladder with our wetsuits and weights to check buoyancy. Next time I insist we wear masks and fins to do that. Not a good idea to go with just weights and a wetsuit. I warned Rebecca to drop weights rather than go down with them, but still, could get out of control and best to be safe.
Before going in, we did a compass bearing on the point and made it 210, 220, but by the time we started on that heading we'd got too close to shore and we could see the rocks at any rate and best to do this exercise without too much reference, so I had Rebecca change to westerly. She bee-lined away from me right on course, so I stopped her when I caught up with her since she had obviously grasped the technique.
We went down and went along the breakwater to the box and had a look around it, but nothing much there. I had pointed out a few staghorn coral in with the dominant porites. There were also cabbage and terrace coral, lots of urchins, and a few clams closing up as we approached, and a big hermit crab. Nice to see all the life for a change. We stopped in the sand and emptied our bcds for exercises. Rebecca recovered her reg fine but had a little trouble with the half and full mask clears, not holding head back and not bubbling out the nose. She did the exercise fine though, just kept working at it till she'd willed the water away, and it was clear she was not going to panic to the surface over a little water in the mask and airway. I then took her alternate air source, no problem there, and we went into a fin pivot, which Rebecca did almost effortlessly.
We then finned up west down the breakwater, changing depth frequently, which didn't throw Rebecca off all that much. We came on a pyramid rock near the point and I had Rebecca take us north over the sand to look for rays about 15 meters. No rays, but she brought us back to the rock spot on after her 180 degree turn.
Rebecca had over 100 bar still so we explored the point some more and then turned east to return. Again, not much out of the ordinary to see though it was very pleasant with the good vis and reasonable water temperature. At the box I took us north over the sand again to look for rays but mainly to get us near the boat for a normal ascent. We came up about 30 meters south of it and Rebecca worked on cramp removal and tired-diver-towed me over to it.
We then descended again and continued east along the rocks. I found a gobie with a crab that wasn't too shy and we waited and watched till the crab came back out. By then Rebecca was down to 40 bar so I had her take my alternate air and we ascended in that configuration. We were again 30-40 meters from the boat so I had Rebecca snorkel to it head underwater and do snorkel reg exchanges. This time she set herself a compass course and multitasked back to the boat, head down the whole way, with no sign of distress.
She was very composed throughout the diving day.
Pressure group out, from tables: not relevant

Use the navigation at the top of this page or your browser's BACK button to return to a previous page

For comments, suggestions, or further information on this page, contact Vance Stevens, page webmaster.

Last updated: April 13, 2001 in Hot Metal Pro 6.0