Return to CALL resources main page | View Site Index | Vance's papers and presentations
Related topics: MOOs | Scheduled chats | Collaborative learning | Listservs and discussion groups | Webheads in Action: Week 3
Calculate the time of events where you are: http://www.timeanddate.com/worldclock/full.html
(C)opyright 2003 Vance Stevens
---
Some CMC clients promoting language learning through chatting online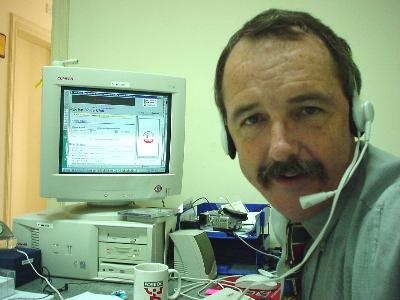 Note from Vance: On revisiting this page in April, and again in Dec 2006 I see that it is in effect a historical record, or a time capsule, of what we were doing in 2002-2003. I have decided rather than attempt to update this page, to leave it as it is, and update pages elsewhere. Of the clients mentioned below, Active Worlds was in my opinion still of interest until Second Life came along. The only clients we still use from this list following is Tapped In (the new version, not the one described here), MSN Messanger, and Yahoo Groups and Messenger. YM remains robust but is overshadowed by Skype in many respects (I still like the Yahoo integration though). To reach one page I still maintain on this topic, visit http://sites.hsprofessional.com/vstevens/files/efi/software.htm
Here are the chats and discussion lists I use most frequently, as of early-late 2001:
Voice-enabled | Active Worlds | Delphi |Excite | Homestead | ICQ | MSN | The Palace | Tapped In | TelcoPoint | Wimba | YahooGroups was Egroups | Yahoo! Messenger
A | B | C | D | E | F | G | H | I | J | K | L | M | N | O | P | Q | R | S | T | U | V | W | X | Y | Z
Voice and Video Enabled
The following clients are among those with a voice and video components, as indicated (April 2002)
| | | | |
| --- | --- | --- | --- |
| Client | URL | voice | video |
| Groove | http://www.groove.net/ | yes | |
| iVisit | http://www.ivisit.com | create or join chat rooms, invite multiple particpants | multiple screens, PC and Mac |
| Microsoft MSN Messenger and Netmeeting | | one to one only | one to one, via Netmeeting, which is a one-click launch from MSN Messenger |
| PalTalk | http://www.paltalk.com | | |
| Sonexis | http://lvbeta.teamwave.com/ | set up a class with Learning Voice | |
| Telcopoint | | multiple participants in chat rooms possible, but works well only if you pay for it | |
| Wimba | | set up threaded voice enabled discussion on your own website | |
| Yahoo Messenger | | multiple voice participants in conference mode, PC only | allows display of multiple web cams, PC only |
See also: Gary A. Cziko and Sujung Park: Internet Audio Communication For Second Language Learning: A Comparative Review Of Six Programs; http://llt.msu.edu Language Learning & Technology Vol. 7, No. 1, January 2003
I've been asked to check out Camfrog Video Chat http://www.camfrog.com and get back to jon at camfrog.org
Active Worlds
You've got to try: http://www.activeworlds.com
Download the browser and then explore by moving the mouse around in the graphics window. If you can find a school in this world you can meet teachers and classmates there, almost literally. For Active Worlds newsletters go to http://www.activeworlds.com/newsletter/; for Active Worlds Community announcements see http://www.awcommunity.org/awec
InterZone University is a site built by a teacher in Osaka. This teacher has installed voice chat on the site so that you can either type or talk to interact. Gordon Wilson, creator of the site, writes: "It is a 3D environment where, like Kevin said, students can interact, talk (not just chat, but with mike and speakers), and build their own section onto the world. Starting in April, there will be a host/facilitator who will be there for students to talk to each day. Aside from the host, 20,000 native speakers visit this network of virtual reality worlds daily and students can get involved in this extremely active community using my world as a starting point that is sympathetic to non-native speakers. Take a look at my website for more info: http://www.hannan-u.ac.jp/~wilson/izu/intzoneu.html (no longer active, Dec 2006) On the website there is a download walkthough that will take you through the setup process and as well as a FAQ section. With the voice chat feature on the page, you can begin talking with people who are in the world or just looking at the page, so be sure to have your mic and speakers hooked up. See and TALK to you there!! Gordon Wilson," 08 Mar 2000 posting on teslca-l; permission to quote requested from wilson@hannan-u.ac.jp, Feb 4, 2001 (email also no longer active, Dec 2006) .
Builders, check out:
Arabia.com
You can create a chatroom on the fly here.
Beseen
CUSeeMe
James Wong has an informative site on Desktop Video Conferencing at the College of Education, University of Missouri-Columbia. There is an overview and FAQ page, a description of hardware and software needed (e.g. CU-SeeMe), instructions on setting up a two-way conference, and links to example educations and to other web sites offering information in-depth on video conferencing and CU-SeeMe.
I couldn't install the following - Vance
Detailed info regarding CU-SeeMe is at:
Rongchang Li, Interim Director, The Culpeper Multimedia Language Learning Center, Gustavus Adolphus College, reports: "Since we set up the Spanish CU-SeeMe Reflector, it has been fairly used. I was able to talk to some language lab directors through the reflector. To help students find language-learning partners, I created a Web database, with which students can browse the records to find partners, or put their information into the database and wait for someone to contact them. Please take a look. The URL is: http://www.lang-ctr.gac.edu/cu-seeme/.
Many ESL students are looking for someone to practice English. Some of them are native speakers of the language our students are learning. They will be happy to have an exchange, and establish a long-term relationship. Therefore, ESL students are also encouraged to use the database.
Delphi
You can create your own free online forum at Delphi.com, http://www.delphiforums.com.
I (once) set up http://www.delphi.com/webheads. Delphi Forums is designed for threaded discussion, but it has a chat client you can access directly or get the code and insert it into a web page. It supports both html and java chat and you can toggle between the two (useful, because you can cut and paste only from html chat). There used to be voice chat, but it was HearMe based, and disappeared when Telcopoint took over HearMe. Meanwhile, Webheads appears to have disappeared with the change in URL from delphi.com to delphiforums.com (and yeah, I tried the obvious, but if you can find it, pleeeease let me know - V :-)
Eyeball chat: According to http://www.eyeball.com/products/eyeballchat.html "Eyeball Chat is a free, consumer-oriented video chat and instant messaging application created by Eyeball Networks. Eyeball Chat has been downloaded by millions of people worldwide and is built using Eyeball Video Suite technology. Eyeball Chat enables any user to communicate live and face-to-face with another user over the Internet for free. All that is needed is an Internet connection and a standard webcam to connect to another friend or family member worldwide. Users can: Video chat live with friends and family for free Share files, music and photos Meet new people online in the Eyeball Chat Rooms Send video and text messages to AIM, MSN and Yahoo! contacts Eyeball Chat is a free application and includes only a subset of the features available in Eyeball Video Suite." Audio capability is not mentioned in this April 2004 message.
Eye Speak
http://www.ispq.com/ multiperson video chat and instant messaging and vmail - From the website: "All iSpQ "Eye Speak" VideoChat versions of the downloadable trial software are fully functional for 30 days. At the end of the trial period you will be able to use limited functions which include: Sending only 5 Quick Messages, No V-Mail, No Profiles and only 2 minutes of videochatting. The text chatroom function will remain fully functional." $39.95 to buy
Excite
This one stopped working in May 2001
Webheads and efiWebheads are two chatrooms here set up by the Webheads team. To access them, simply visit: http://www.excite.com/communities/chat/voicechat/rooms and follow these steps:
Where it says: 'Enter a room name to go to an existing room' Type: 'Webheads' and click GO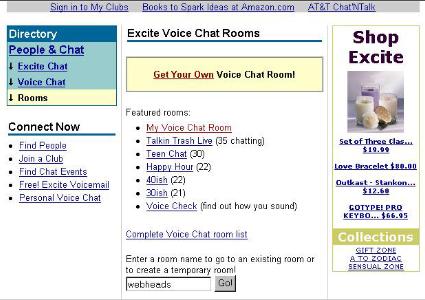 Where it says: 'If you prefer, you can chat as a guest. Enter your guest name and press Go!' Type your name and click GO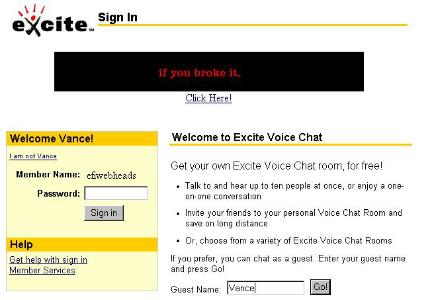 <-- Hold down the control key to talk. Mic volume adjusts automatically.

Some points about excite

It seems to work better with Internet Explorer
You don't have to start an account to use the software but you can if you wish;
It is not necessary to download the Excite chat client software when using IE, though it might be necessary with Netscape
FireTalk
http://www.firetalk.com - announced its imminent demise, March 2001
Groupboard
Go to http://www.groupboard.com and copy the code to add a whiteboard and chatroom to your site
Homestead
Sign up with http://www.homestead.com (5 minutes maybe), start a homepage with the Homestead SiteBuilder (another 5 minutes?), and drag a chat icon onto the page you create (5 seconds).
Visit the Writing for Webheads chatroom at http://www.homestead.com/vstevens to see what yours might look like. If you don't meet anyone you can leave a message here (a message board is another drag and drop item available at Homestead Webbuilder)
EFI (English for Internet) has a chat room at http://www.homestead.com/efi where volunteers are welcome to drop in and chat with ESL students.
Hosted Scripts
http://www.hostedscripts.com - recommended by Jo Mynard in a presentation given in Abu Dhabi Feb 15, 2001 (and which appeared in text form in LLT Journal I believe - url forthcoming). - "they just provide script for your website which created a chat board - not a chat room. Students need to re-load to see new postings - it operates more like a bulletin board which has advantages for beginners because they don't have to deal with text rapidly scrolling off the screen! ... I have used these two too: http://www.cgispy.com and http://www.bravenet.com which work quite well" (per Jo, email June 2002, permission to post implied in the email).
ICHAT
The ICHAT PAGER is at http://www.ichat.com In Feb, 2001 it appears you can get chatrooms and threaded message boards hosting here, but not for free, it doesn't look like.
ICQ
ICQ (an anomonopoetic acronym for I seek you), allows you (and your students) to register for free and afterwards be notified when other registered users are online. Users can initiate chats with other users, and anyone can page a user. For example, page Vance at http://wwp.mirabilis.com/2774215 (If you come upon http://wwp.mirabilis.com/1296402, that's an outdated one, and I can't shut it down because I have no idea of the password).
ICQ is possibly the most widely common chat client of its kind, the kind that tells you when friends are online. It's a great tool for finding people wherever they may be to inititate your chat session wherever else you may choose, and because it's widely used internationally and has been around for so long, it's the one international users are most likely to have. Messages are time stamped (useful in case you return to your computer and wonder when the message appeared, and it's one of the only clients that does this). You can dialog in message mode or form chat groups with two or more participants. When typing you actually see what the other person is typing in real time. You can save the chat dialog as a file on the spot, and you also have a messages history associated with each buddy that keep an archive. You can do file transfers and invoke a wide range of security options.
IRC
Instructions for downloading and installing Global Chat client software:
iVisit
http://www.ivisit.com - easy to get going, allows formation of video and text chat rooms
LiVVe
A student of Tom Robb's bills this as an instant messenger that "replaced HearMe. You can create a private room for your class with both voice and text chat. Video is also available but it is not free. LiVVe has a whiteboard, and it is possible to show websites. The voice quality is generally good. Go to < http://www.livve.com > to download." - I'll have to check on this - Vance, May 2003
mIRC
http://www.mirc.co.uk/get.html - includes ability to log chat sessions, and uses a settings file which stores the user's data and which could be personalized for each student (each starts from his/her own file)
MSN Messenger Service
From http://messenger.msn.com. Has voice and text chat, lets you know when buddies are online, and you can record chats by cutting and pasting from chat window.
Multicity
http://www.multicity.com/ - provides HTML which you embed in your page
NetMeeting
The Palace
In April 2002, The Palace client is again available at http://www.thepalace.com, downloads for PC and Mac are available here: http://practice.chatserve.com/palwin1.html
The Palace was our favorite virtual chat software. There are rooms, guests have round heads that can be dressed up and have facial expressions, speak and make other sounds like laughter. The discussions appear in cartoon-like bubbles and the familiar scrolling log window which can be saved as a transcript. It's an alternative to a MOO or Web chat for use in instruction online. ... from Margaret, MADenglish@T-Online.de
The manuals that explain what Users can do, what Wizards can do, and how you can use the moderation software, was still up in February 2001 at: http://www.palacespace.com/support/manuals/index.html
Let's hope this is purely a historical footnote:
In February, 2001, I found the following message at http://www.thepalace.com/
November 1, 2000
Dear The Palace User,
This fall, we had to make the very difficult decision to stop supporting The Palace.
On September 27th, registration for The Palace software (including The Palace Server) was discontinued and The Palace Server Software and Palace User Software was removed from our website. Upgrades to Palace Server registration codes are no longer available. The Palace products have been discontinued and Communities.com is no longer providing support for them.
However, there are still many independent Palace communities available. There are many resources, including discussion lists, tools, and a Palace directory at PalaceTools.com:
The DMOZ Open Directory Project also maintains a list at:
http://www.dmoz.org/Computers/Internet/Chat/The_Palace/
Additionally, The Palace User Software is still available at the following FTP sites:
http://www.download.com
http://www.tucows.com
http://www.simtel.net
Thank you for your interest in Communities.com products,
Communities.Com Customer Support
support@communities.com
Parachat
PowWow
no longer supported :-(( February 3, 2001
Sonera
Speakeasy Studio and Cafe
http://morrison.wsu.edu/studio/
Talk City
Tapped In
In 2002, Tapped In introduced and tested its beta version of Tapped In 2. At some point in 2003 the old Tapped In - classic was replaced by the new model. The new model did not retain the MOO features of TI-classic. What is written below is based on the old model.
Since early 2001, Tapped in has been the text-based chat client most favored by Webheads. This is a MOO-like environment (uses MOO commands) that you can access through a java interface called TAPestry. It's a thoroughly professional facility with robots at the door, and often even live helpers. It's a very friendly environment: http://www.tappedin.org .
Options: (1) plain-vanilla text with a small telnet client program on its own, (2) using a client program linked to a browser, or (3) using a java applet if your computer & connection can handle it. See an article at http://www.tappedin.org/info/papers/ieee.html
Educators can have free offices there. VanceS's Office is at: 22nd Floor North Wing N2201
To get there, go to http://www.tappedin.org and log in as a guest.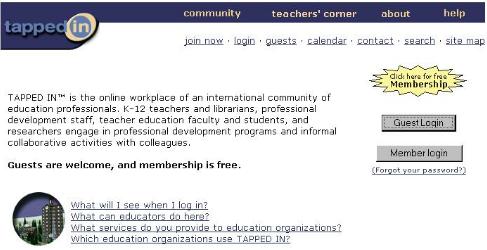 The program will ask if it can close a browser window. You can say Yes.


The program then prompts you to complete your guest login: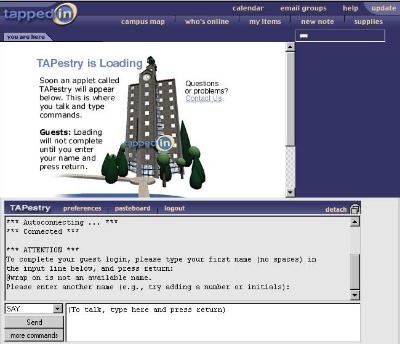 First, replace (To talk, type here and press return) with your name, like this: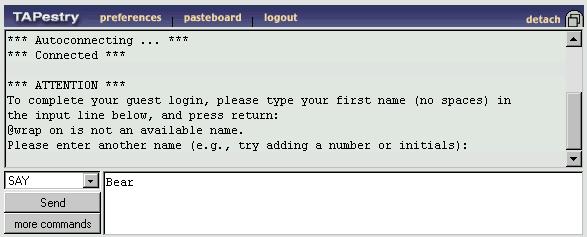 Now press the Enter key (same as return). This takes you to Reception.
If your purpose here is to find me, type /join VanceS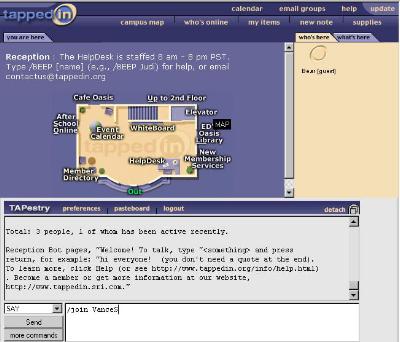 If I'm around, you will be teleported where I am. Usually I'm in my office: 22nd Floor North Wing N2201. You can also navigate the MOO to get there on your own and surprise me when I arrive.
There's a recorder that accompanies me wherever I am in the MOO and emails transcripts of my chats whenever I log out of the MOO, and anyone can set one up for him/herself.
TelcoPoint
TelcoPoint claims to have taken on the excellent HearMe technology, but the result has so far been disappointing. In a departure from HearMe's modus operandus, TelcoPoint does not provide code that users can run from their websites. Rather, you ...
Here you provide names of up to 5 chatrooms (irrelevant) and much more importantly the 5 urls of those chatrooms.
The way it now works is ...
you create a web page at the url which you registered with TelcoPoint
on the web page you create a link sending users to the robot lurking at http://www.telcopoint.com/hearme/start_chat.phtml
the robot determines where the users are calling from and puts all users linking from that registered url in the appropriate chatroom
If you want to try it (see how it's working today), visit (or better, meet a friend, and if it works, a class, at) http://www.vancestevens.com/hearme.htm
Since setting it up in January 2001 I have in the first three months of the year had about a 10% connect rate with the server, and the one time we had three people in the chat we could hardly understand each other. At the moment, it doesn't appear to be a service worth spending a lot of time on, but perhaps the situation will improve. If it does, I'll likely revise this commentary soon thereafter.
Telnet
Freeware that is easy to download and install: http://www.ncsa.uiuc.edu/SDG/Homepage/telnet.html Here you can find software to allow your Mac or PC running MSDOS on a TCP/IP network to connect to other computers running Telnet (also, FTP, LPR, Setclock, RSH, REXEC, Finger, and Whois utilities)
Tool Zone
Doesn't exist anymore, per Jo Mynard in personal communication, June 2002
Vocaltec
I-phone v.3 - http://www.vocaltec.com/iphone.htm
http://www.vocaltec.com provides PC to phone and Web to phone Interfaces. Either you run the service from your website or you get your ISP to activate it for you.
WIC
WIC messenger is an easy and fun tool to communicate with your friends, get to know other people and, perhaps, find love. WIC messenger is a new instant messenger service that helps you make friends, it's also a system which interacts with other instant messenger services and allows you to use your contacts from msn, yahoo, icq and aol. At the same time it's an easy and secure way of getting to know new people. 2http://www.wic.com/start.php or http://www.wic.com/start.php
Wimba
Voice threaded discussion and voice email. You can get the code from http://www.wimba.com/ and put it on your site.
Webheads have a Wimba site. If you'd like to try it go to
http://www.chariot.net.au/~michaelc/wimba.htm
It might take a few minutes to load, and you will be asked (twice) to grant permission for your browser to run the program on your PC. Click the 'grant' button each time.
Once the program is fully loaded and you can see all the buttons:
To record a message click compose, and then record (you can also just write a text message if you want.
To hear someone else's message click on the message on the list and press play (sometimes takes a minute)
Worlds Chat
My sister Leslie says: Worlds Chat. It's pretty cool. The graphics are much better than Active Worlds but you can't fly or move your avatar's body, although you can walk around and teleport. If you want to check it out, you can download the demo at http://www.worlds.net/ You download a 9 meg installation file and need 80 meg of disk space to install the client, and then you download other worlds as needed (free).
Yahoo!groups (was Egroups)
Egroups swallowed OneList and was in turn swallowed by Yahoo! Now if you visit http://www.egrougs.com or http://www.yahoogroups.com you are routed to http://groups.yahoo.com . All these urls work, and service is about the same as before.
YahooGroups lends itself particularly well to private classwork. You can start a group and control who can join, who can post, where replies to postings go, and so on. You can get email sent to you or read postings on the web, where they are archived for you. Among its other features, you can invoke a calendar feature to remind users of class events. You can store files in its hard drive in the sky to share with group members.
YahooGroups provides java-based text chat. The power to exclude outsiders can make this a safe environment to chat in (and you can enroll outsiders as appropriate, guest speakers for example). One disadvantage here is that you can't copy/paste from the java window, so you can't keep transcripts of your chat. With Yahoo! takeover has also come voice chat, but I'm not sure how to set it up, and feedback support has not responded.
Yahoo! Messenger
Yahoo will let you conference in voice mode as well as in text, and to talk, you need the latest version of the software.
You can also connect using your webcam with Yahoo Messenger. For an archive of examples, see: http://sites.hsprofessional.com/vstevens/files/efi/vcommunity.htm#video
You can save chats by cut and pasting from the chat window.
---

Use the navigation at the top of this page or your browser's BACK button to return to a previous page

For comments, suggestions, or further information on this page
contact Vance Stevens, page webmaster.

Last updated: April 7, 2005 in Hot Metal Pro 6.0
---
Copyright 2006 by Vance Stevens
under Creative Commons License: http://creativecommons.org/licenses/by-nc-sa/2.5/
---
Mirrors: This page is available at: